France: THC-Free Marijuana Vape Pen Hitting The Market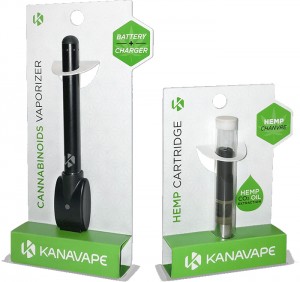 By Steve Elliott
Hemp News
Electronic cigarettes containing extracts of marijuana -- but no psychoactive THC -- are about to hit the market in France any day now. The e-cigs contain cannabinoids, including cannabidiol (CBD), which give relaxing and pain-killing effects, according to the manufacturer.
Three young French entrepreneurs are launching the product, which launches before the end of December, and they claim it will be entirely legal, reports The Local.
"KanaVape brings you many of the benefits of cannabinoids without the psychotic effect of THC," claims the website of the product, due to go on sale this month in France.
"Vape pens" which allow consumers to inhale cannabis or tobacco vapor are increasingly popular in the United States. But they've been rare in Europe until now.
"By using only hemp with 5 percent CBD (Cannabidiol) and no THC, KanaVape provides you with a unique cannabinoids excperience," the company claims. "Cannabidiol is a non-psychotic cannabinoid, it will not make you 'high' but will help you relax." (Note the not-very-subtle substitution of the word "psychotic" for the proper term, "psychoactive," perhaps to demonize THC and make it seem more threatening -- a favorite, albeit quite deceptive, marketing strategy for "CBD-only" purveyors.)
CBD-rich hemp, which is grown legally to make products such as oil, rope, cloth, paper, and fuel, will be used to make the vapor mix.
One of the founders of the firm, Antonin Cohen, several years ago launched an association to help encourage the medical uses of cannabis in the French-speaking world. After working in the sector in the U.S., he decided to launch KanaVape in France to "help people who are suffering," reports Gaspard Glanz at Vice.
Cohen said he and his colleagues spent two years working on extracting legal cannabinoids and "making sure there'd be no THC" in their product. He told Vice that the vape pen will be marketed mainly to people suffering from ailments that can be eased by marijuana.
"We cannot be accused of selling a product that has recreational use," he claimed. "You cannot get high with it."
But the website touts the vape pen as more of a fun product that "provides you with a unique cannabinoids experience," which doesn't sound all that medical.
In 2010, 13.4 million French people between the ages of 11 and 75 admitted to trying marijuana at least once, reports RT.com. Meanwhile, around 1.2 million are estimated to be daily users of the drug, according to the French Observatory of Drugs and Addictions (OFDT).
The hemp used for the vape pens is grown at farms using environmentally friendly practices in the Czech Republic, France and Spain that don't use chemicals or synthetic pesticides, according to the company.
Photo: KanaVape.com