Maine: Former Top Drug Prosecutor Gets 16-Year Prison Sentence For Child Pornography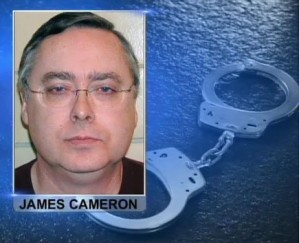 By Steve Elliott
Hemp News
The former top drug prosecutor in Maine -- who fled out of state after he was convicted of child pornography charges -- is going to federal prison for almost 16 years.
James Cameron, convicted in 2010 of 13 counts of child porn, had posted bail and was released pending an appeal, reports Catherine Pegram at WABI TV.
He took off out of state in November 2012, and was caught in New Mexico a month later.
Cameron's lawyer was pushing for a 6-1/2 year sentence.
Cameron was sentenced Wednesday in federal court in Bangor to 15 years and 9 months in prison.
Photo: WABI TV