Ohio: Campaign To Legalize, Monopolize Marijuana Aims For 2015 Ballot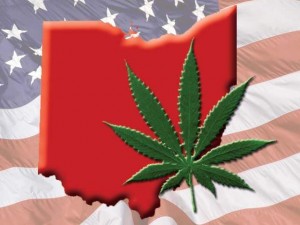 By Steve Elliott
Hemp News
Ohio residents could get the chance next year to vote on a marijuana ballot issue unlike any other in the United States, involving 10 wealthy individuals who would invest to obtain the right to grow and sell marijuana wholesale for personal use by adults 21 or older.
A group calling itself ResponsibleOhio said it aims to "end marijuana prohibition" and "pursue a ballot initiative in 2015 to give voters the opportunity to let adults 21 and older use marijuana for medical and personal use," reports Alan Johnson at The Columbus Dispatch.
"Marijuana for medical and personal use should be a choice made by adults 21 and older in this state. We are going to end this failed prohibition," said Lydia Bolander, spokeswoman for the campaign.
"Legalizing marijuana for medical and personal use means increased safety because we will regulate, tax and treat marijuana like alcohol," Bolander said. "We will smother the black market and use the taxes generated to help local communities provide vital public services.
"We need to be compassionate and ensure patients receive the treatment they rightfully deserve. We will create jobs in the agricultural, wholesale and retail marketplace, and we will drive research at our universities and hospitals," Bolander said.
Under the plan, cannabis would be taxed, with the proceed distributed to government, according to the group. The exact method of distribution isn't detailed.
"We will take the steps that so many other states have taken to decriminalize marijuana so that we are no longer destroying lives and our law-enforcement officers are spending their time investigating and arresting the real criminals threatening our communities," Bolander said. "This is about safety, personal freedom, healthy choices, jobs and tax dollars for our communities."
The proposed amendment to the Ohio Constitution, if approved, would establish a state Marijuana Control Commission. This would operate similarly to the Ohio Casino Control Commission, set up after state residents approved a statewide issue in 2009 to allow just four casinos to operate in the state, according to sources.
By including in the state constitution where cannabis can be produced, and who can profit from its production, organizers are using a similar approach to their successful 2009 campaign to allow casino-style gaming, report Mark Naymik and Brent Larkin at Cleveland.com. The campaign has commitments from already-selected property owners who promise to provide the millions of dollars needed to pass such an amendment, according to sources familiar with the plan.
Mom-and-pop style marijuana businesses, as well as home growing, would be frozen out from the get-go.
"I'm against creating a constitutional monopoly," said John Pardee, president of Ohio Rights Group, which is planning to pursue a medical marijuana amendment. The Ohio Rights Group failed in July to collect enough signatures to get on last month's ballot, with just over 100,000 signatures collected of the more than 385,000 needed.
While several other marijuana issues have been proposed in Ohio over the past several years, none of those has obtained the required number of signatures to qualify for the ballot, either.
Jon Allison, a Columbus-based attorney representing the Drug Free Action Alliance, wasn't impressed with the new plan.
"If you put that creators of the Sopranos and Breaking Bad in the same room they couldn't come up with a plot this far fetched. Perhaps the details will help clarify things but right now it sounds like 10 wannabe drug lords are going to ask Ohio voters to constitutionally protect their cartels and turf," Allison said.
"That doesn't sound like anything that could happen in the Ohio I have lived in for almost 50 years. I don't even think the grass-roots medical marijuana true believers in this state will find this appealing," Allison said.
Graphic: Smoking With Style