Georgia: New Push For Medical Marijuana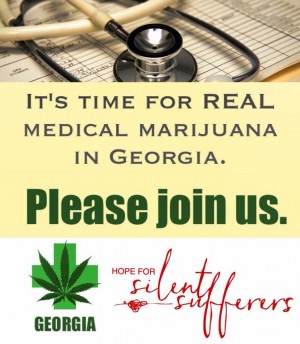 By Steve Elliott
Hemp News
Almost a year after the first medical marijuana bill -- and a rather mild one, at that -- failed in Georgia, suffering patients and those fighting to relieve their pain hope that won't happen again.
As lawmakers prepare for the next General Assembly in January, a poll from the Atlanta Journal-Constitution shows that 80 percent of Georgians support legalizing marijuana for medicinal purposes, reports Anita Oh at WMAZ.
Since Congress just approved, and President Obama signed into law, a spending measure that eliminated funding for the Drug Enforcement Administration to conduct medical marijuana raids on complying businesses in states where medicinal cannabis is legal, those favoring a change of law at the state level have more rhetorical ammunition.
After testifying in September before a medical marijuana study committee led by Republican state Rep. Allen Peake, Katie Crosby, 26, started a Facebook group called Hope For Silent Sufferers. "Imagine, before you even have a thought in the morning, you wake up, just in agony," she said. "A living hell, a living nightmare to be honest."
The group, which advocates for the legalization of medical marijuana in Georgia, has nearly 20,000 supporters. Through it, Crosby has connected with people like Pamela Skinner, who was diagnosed with fibromyalgia in 1996.
"Anything physical poses a threat," Skinner said. "I have grandbabies that weigh 30 pounds and I can't pick them up."
As 2015's legislative session draws near, patients like Crosby and Skinner are afraid chronic pain might not be included in the medical marijuana bill. "It's just sad to me that you can live in one state and receive relief but not in another," Crosby said.
Rep. Peake, who sponsored House Bill 1, said his committee is exploring a range of conditions that could be treated by medical marijuana. "Seizure disorders, cancer, glaucoma, MS, ALS, autism, possibly chronic pain," Peake said.
Only seven or eight of those conditions will likely be written into the bill; Peake claimed keeping the list limited is an effort to keep medical marijuana "tightly regulated," as if that's somehow more important than helping people in pain.
But, he said, "We're looking at a provision where someone who has a condition that's not on that list could appeal to the Department of Public Health."
"It's cannabis oil or an edible form, cannot be smoked, you cannot get high," Peake said of his CBD-only bill.
"We may be suffering, but we're no longer silent," Crosby said. "Please don't leave us behind."
The General Assembly begins on January 12.