U.S.: Visit By Mexican President Sparks National Week Of Protests Demanding End To Drug War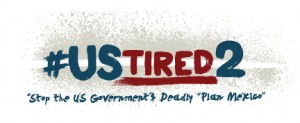 As President Barack Obama meets with Mexican President Enrique Peña Nieto on Tuesday, January 6, thousands of Latinos in Washington D.C. and other major American cities will protest to demand an end to the deadly "Plan Mexico" – a billion-dollar program to aid Mexico's corrupt and notoriously violent security forces, ostensibly in the name of fighting the War On Drugs.
The main protest of the day will take place in Lafayette Square in front of the White House (1600 Pennsylvania Avenue NW, Washington, DC 20500) starting at 10 AM.
In September 2014, 43 students were disappeared from the Ayotzinapa teachers' college in the state of Guerrero, Mexico. It was quickly discovered that, at the behest of the regional governor, the students had been kidnapped by local police and then handed over to a drug cartel.
Survivor testimonies and a UC Berkeley investigation confirm that members of the Federal Police and 27th Army Battalion stationed very near the scene of the crime were present and had knowledge of the attacks before, during and after. The scandal set off an unprecedented crisis of legitimacy for Peña Nieto's administration – and all levels of government in Mexico – as scores of mass graves and evidence of other such gross human rights violations surfaced during the course of the search for the 43 kidnapped students.
Since the students' kidnapping, Peña Nieto has done little to ameliorate the crisis, and his administration has in fact lied and tried to cover up this hugely emblematic case.
In the wake of this crisis in Mexico, thousands of people in Washington D.C. and in cities across the United States will demonstrate on Tuesday, January 6, to voice their opposition to President Obama's meeting with President Enrique Peña Nieto and to the United States' ongoing military aid and assistance to the Mexico's security forces, which are now proven to be perpetrating massive human rights violations, including the September kidnapping. Demonstrators will march in front of federal buildings and other locations in their respective cities. (Additional information and locations of all events will be made available on Monday.)
"President Peña Nieto's security forces are responsible for what is hands-down the worst human rights crisis in all of Latin America and deserves our denunciation, not our tax dollars or political support," said Roberto Lovato, one of the co-founders of the all-volunteer campaign #USTired2, which is coordinating the January 6 national day of action. "Two years into his administration, it's now abundantly clear that instead of 'saving Mexico,' Peña Nieto and his failed policies are destroying Mexico to the point where it is disgraceful that our President is even meeting with a Mexican Administration that, under US law, should have its funding cut for massive human rights violations.
"How many US-funded massacres will it take before Obama and Congress shift course on Mexico?" Lovato asked.
The all-volunteer campaign #USTired2 is a broad and diverse network of communities connected to Mexico. #USTired2 emerged as the English-language counterpart to the #YaMeCansé* campaign that has swept Mexico, as its citizens have risen up to declare that they are tired of the state violence, human rights abuses and widespread impunity – all aided by U.S. tax dollars.
*The #YaMeCansé hashtag originated from a response given by Mexico's Attorney General, Jesus Murillo Karam, at a press conference about the 43 students during which he ended the Q&A portion by saying "Ya Me Cansé" ("I've had enough") in an attempt to evade questions from journalists. Karam's response instantly sparked outrage among protesters and students across the country, and thus the hashtag was born.
In Mexico, over 100,000 people have been murdered and more than 25,000 have gone missing over the last decade, many thousands of whom were killed by the same security forces our US tax dollars are helping to pay for. A substantial proportion – perhaps a majority – of this violence has been perpetrated by Mexican security forces, which are widely known to collaborate with the narco-traffickers.
The cornerstone of "Plan Mexico" is the multi-billion dollar Plan Merida, a security aid program implemented in 2007, which President Obama has promised to continue "indefinitely."
Continuing Plan Merida runs counter to US law. The Leahy Law prohibits the State Department or Defense Department from providing military assistance to "any unit of the security forces of a foreign country if the Secretary of State has credible information that such unit has committed a gross violation of human rights."
Mexican President Enrique Peña Nieto's government has continued a long and vicious trend of drug war violence in Latin America, perpetrating human rights abuses that are among the worst the region has seen in decades, according to human rights organizations.
#USTired2's campaign to end Plan Mexico began in October and saw more than 54 American cities mobilize for a day of action on December 3rd, 2014.
Website: http://ustired2.com/
Facebook: https://www.facebook.com/pages/USTired2/767562843324746
Twitter: https://twitter.com/UStired2