Hawaii: State Capitol Flies Hemp Flag On Opening Day Of Legislative Session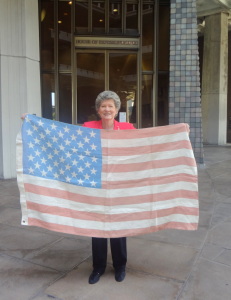 By Steve Elliott
Hemp News
Hawaii on Wednesday, the opening day of the 2015 legislative session, joined the U.S. Capitol and four other states in flying an American-grown, American-produced hemp flag.
GOP state Rep. Cynthia Thielen, who has long advocated for industrial hemp use, sponsored the flag-raising and borrowed a hemp flag from Colorado advocate Michael Bowman, reports Chad Blair at the Honolulu Civil Beat.
Bowman enlisted the help of a Colorado hemp farmer to make the flag, according to a press release from Thielen's office.
The flag has "a vintage feel to it which appears to be a nod to America's hemp growing founding fathers and the many original flags that were made of hemp," according to Thielen's office.
"This durable flag will be flying high," the state representative's office adds.
The University of Hawaii College of Tropical Agriculture and Human Resources is allowed to establish a two-year industrial hemp remediation and biofuel crop research program after last year's passage of Act 56 into law.
The federal Agriculture Act of 2014 allows colleges and state departments of agriculture to conduct industrial hemp research, including cultivaiton.
The neighboring Hawaiian island of Maui "is slated to become the first island in the state with a home built using industrial hemp," reports the Maui News.
Photo: Rep. Cynthia Thielen and the hemp flag