New Hampshire: Lawmakers To Consider Removing Marijuana Possession Penalties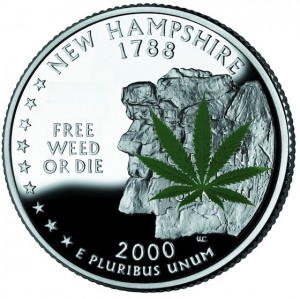 Bill introduced with bipartisan support would replace criminal penalties and potential jail time with a civil fine of up to $100 for possession of up to one ounce of marijuana
A bill has been introduced in the New Hampshire House of Representatives that would remove criminal penalties for possession of small amounts of marijuana. The House passed a nearly identical bill last year by a vote of 215-92, but the Senate refused to consider it.
HB 618, sponsored by Rep. Adam Schroadter (R-Newmarket) and a bipartisan group of seven co-sponsors, would make possession of up to one ounce of marijuana punishable by a civil fine of up to $100. It would also make cultivation of up to six marijuana plants a Class A misdemeanor instead of a felony.
Currently, possession of any amount of marijuana is a misdemeanor punishable by up to one year in prison and a fine of up to $2,000 in New Hampshire, which is the only state left in New England that treats simple marijuana possession as a criminal offense with the potential for jail time.
"Criminalizing someone for possessing a small amount of marijuana causes far more harm than marijuana itself," said Matt Simon, the Goffstown-based New England political director for the Marijuana Policy Project (MPP), which is supporting the bill. "A criminal record can prevent someone from accessing employment, an education, and even a home."
Three out of five adults in New Hampshire (61 percent) support removing criminal penalties for marijuana possession, according to a WMUR Granite State Poll released in April 2014. Only 24 percent said they were opposed.
"Granite State voters are sick of having the harshest marijuana penalties in New England," Simon said. "It is irrational to treat people like criminals simply for possessing a substance that is far less harmful than alcohol."
Nineteen states and the District of Columbia have removed the threat of jail for simple marijuana possession.