U.S.: Study Says Florida Is Worst State For Marijuana Smokers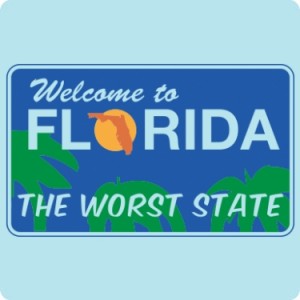 By Steve Elliott
Hemp News
An informal study by has shown Florida is the worst state in the Union for marijuana smokers.
Reporter Evan Anderson became curious about cannabis citations around the United States after reading a MuckRock piece by Beryl Anderson on citation data from California marijuana arrests after decriminalization. Copying the language used by MuckRock user Dave Maass to get California's numbers, Anderson requested the same data from Arizona, Colorado, Florida, Massachusetts, Texas, Vermont and Washington. Data from Washington and Colorado, both of which have legalized pot, were unavailable at the time of the requests, and the Massachusetts Department of Criminal Justice never acknowledged his request.
The number of marijuana citations given in Florida "blows the rest of the states out or the water," Anderson reports in MuckRock.
Part of that is due to the unfortunate fact that possession of more than 20 grams of cannabis in Florida is a felony with a maximum punishment of up to five years in prison and a fine of up to $5,000.
California, by contrast, has decriminalized possession of 28.5 grams or less of cannabis, where such cases will get you a mere infraction and a maximum fine of $100 (unless you're a minor, in which case you can get 10 days in jail and a fine of $250).
Even after correcting for population, Florida is still far worse than the other states measured, giving marijuana tickets to one in 294 state residents in 2011. Arizona was the next worst state in the sample, issuing one citation for every 3,313 people in 2011.
According to Arizona law, possession of any amount of cannabis is a felony, with a maximum fine of $750 and a minimum sentence of four months in jail. Oddly, marijuana citations nearly doubled between 2011 and 2012, and remained at that high level through 2014.
The total number of marijuana citations from 2011 through 2014 in Arizona, California, Texas and Vermont combined was 49,160 -- incredibly, 336 less than the number of citations Florida alone issued through October 3 in 2014 alone.
The number of cannabis citations issued in Florida from 2011 through 2014 is nearly five times that of the rest of the sampled states combined, despite the fact that Florida's population is only half that of California's.
Florida may be the Sunshine State, but it has a long way to go before its citizens who choose cannabis enjoy equal rights with everyone else.
Graphic: ShirtScope