Washington: Bogus I-502 Deadline Letter Alarms Legal Marijuana Store Applicants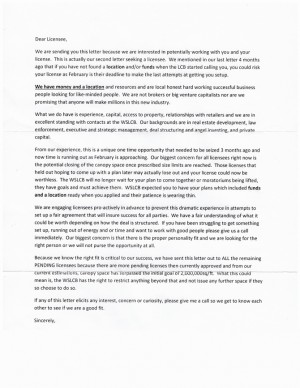 By Steve Elliott
Hemp News
A number of I-502 applicants who want to run legal marijuana businesses in the state of Washington have been alarmed by a solicitation from a company about an impending universal February deadline, according to a Wednesday morning email from the Washington State Liquor Control Board.
The letter warns of the supposed impending deadline for applicants to "get set up" and that the Liquor Control Board will "no longer wait for your plan to come together."
"We have money and a location and resources are are local honest hard working successful business people looking for like-minded people," the solicitation letter reads. "We are not brokers or big venture capitalists nor are we promising that anyone will make millions in this new industry."
"Those licenses that held out hoping to come up with a plan later may actually lose out and your license could now be worthless," the letter claimed. "The WSLCB will no longer wait for your plan to come together or moratoriums being lifted, they have goals and must achieve them."
"WSLCB expected you to have your plans which included funds and a location ready when you applied and their patience is wearing thin," the solicitation letter goes on (evidently someone is practicing their "Scolding a Stoner" skills).
"This has caused some alarm among applicants and led to calls to the Liquor Control Board," Wednesday morning's email from the WSLCB reads. "Those claims are not true."
"While some individual applicants may be facing deadlines in February those are not universal to every applicant," the February 4 email reads. "Any changes to the status of an individual application will be conveyed to the applicant by their investigator and universal changes regarding the implementation of I-502 will be communicated via official WSLCB channels including this Listserv."
"Applicants should be skeptical about any mass communications claiming to have inside information and treat them as hearsay or rumor until they speak with their WSLCB representative," the letter instructs. "Thank you for your continued interest in the I-502 implementation process."