U.S.: Surgeon General Says Marijuana Can Be Helpful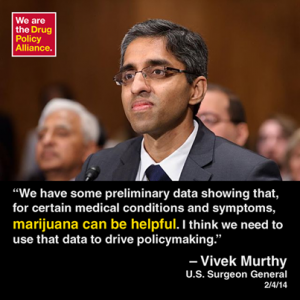 By Steve Elliott
Hemp News
U.S. Surgeon General Dr. Vivek Murthy has joined the growing number of top medical professionals and organizations favoring the reform of marijuana allows to allow access to cannabis for medicinal purposes.
"We have some preliminary data showing that for certain medical conditions and symptoms, that marijuana can be helpful," Dr. Murthy said, reports communications director Jag Davies at the Drug Policy Alliance (DPA). "I think that we have to use that data to drive policymaking."
Despite the legalization of medical marijuana in 23 states, the federal government still insists cannabis is a Schedule I controlled substance, meaning it has a high potential for abuse and no medical value.
It's an "interesting story that's unfolding in our country right now," according to Dr. Murthy, and "we have to see what the science tells us about the efficacy of marijuana, and I think we're going to get a lot more data on that" as more states legalize cannabis for medicinal purposes.
Patients in states without medical marijuana laws have no legal access at all to this therapeutic substance. Even in states where medical marijuana has been legalized, patients and providers are vulnerable to arrest and harassment from federal law enforcement agents.
Bill Clinton's Surgeon General, Joycelyn Elders, spoke out about the potential benefits of legalization back in 1993 when she said, "I do feel we'd markedly reduce our crime rate if drugs were legalized." Elders now sits on the Drug Policy Alliance Honorary Board.
Last week, two major health organizations released updated policies on medical marijuana, as the American Academy of Pediatrics (AAP) and the American Public Health Association (APHA) both backed more research.
"Murthy's comments will only add to the growing momentum to increase the number of states with medical marijuana laws, support and improve existing state medical marijuana programs, protect medical marijuana patients, and to end the federal ban on medical marijuana so that all patients have safe access to quality medicine," said the DPA's Davies.
The full interview is below (Murthy's comments on medical marijuana start at 3:48):
Photo of Surgeon General Vivek Murthy: Drug Policy Alliance Facebook page