Alaska: Marijuana News Show Now Broadcast On KBYR Anchorage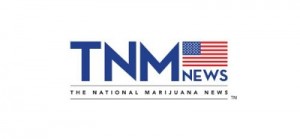 TNMNews, which calls itself "the unbiased marijuana talk radio program," is now broadcast on KBYR Anchorage. The announcement follows the news last month that TNMNews is also broadcast on KFAR 660 AM, the oldest radio station in Alaska.
"KBYR has become the third terrestrial station to pick up our unbiased cannabis-related news and talk show," said Todd Denkin, president of TNMNews and CEO of its parent company, DigiPath, Inc. "Cannabis is a hot topic in Alaska, where voters recently gave thumbs up to the recreational use of marijuana by passing Ballot Measure 2."
Hosted by Todd Denkin and Jen Gentile, the latest episode of TNMNews examines how political activism is working to advance acceptance of marijuana use in America and features leaders in the fight to expand cannabis in healthcare and its role in films and television.
First up in this week's show, certified nurse Lanny Swerdlow describes how in 1995 he administered cannabis to a patient for the first time. The patient had contracted HIV/AIDS, and he was wasting away while experiencing severe side effects from his medication cocktail.
Cannabis mitigated the side effects, so Swerdlow's patient stayed compliant with his prescribed medications. It also stimulated the patient's appetite, reversing his wasting, and helped lift his spirits. The problem that Swerdlow faced in treating his patient with marijuana was having to "deal with criminals to get it for him."
Swerdlow goes on to proclaim that the real benefit of cannabis isn't its direct medical values. "The most important aspect is that cannabis is the only effective substitute to alcohol," he says in the interview. He estimates that 20 percent of patients in hospitals are there to treat their alcohol-related conditions.
Swerdlow founded the Marijuana Anti-Prohibition Project and served as head of the Brownie Mary Club, the first cannabis interest group that is affiliated with a major political party — the California Democratic Party. He reports that the people who brought recreational marijuana initiatives to Colorado and Washington are planning to do the same in California in 2016.
"We're going to have the state primed and ready, so whatever measure shows up on the ballot," says Swerdlow. "I hope we'll have some input. ... But we're laying the state together so when the initiative is on the ballot, we'll be able to say that the Democratic Party of California supports this initiative, and you've got to remember that Democrats are what runs California."
Next, Can I Liv execs Asia Fonseca, CEO and founder, and Jay Reed, chief tech officer, discuss the organization's position as the premier healthcare provider in the medical marijuana industry, while also promoting the use of cannabis and its by-products to treat patients.
Like Swerdlow, Fonseca and Reed became advocates after witnessing patients struggling to afford medication they needed to live. Can I Liv works to ease the financial burden of healthcare by supplementing the cost of medications and offering actual healthcare to medical marijuana patients.
Finally, Tom Bernard, founder and co-president of Sony Pictures Classics, speaks with TNMNews host Todd Denkin and East Coast Correspondent Jackie Martling at the High Times 40th Anniversary Party. Bernard and Martling reflect on their experiences with the High Times Stony Awards (a.k.a. the Stonys), which celebrates the "highest and stoniest" movies and TV shows of the year.
Bernard also addresses his current projects and shares his hope that President Obama will make cannabis legal before he leaves office and predicts that cigarette-makers will dominate the market once cannabis is made legal.