New Hampshire: Supporters Of Marijuana Legalization Bill Hold Press Conference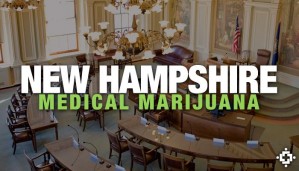 Bill sponsors joined by attorneys Paul Twomey and Jonathan Cohen, and Matt Simon of the Marijuana Policy Project, at event prior to House Criminal Justice and Public Safety Committee hearing on HB 618
Supporters of a bill to remove criminal penalties for possession of small amounts of marijuana in New Hampshire held a news conference at 1:30 p.m. ET in the lobby of the Legislative Office Building prior to a hearing on the bill by the House Criminal Justice and Public Safety Committee.
The bill sponsor, Rep. Adam Schroadter (R-Newmarket), was be joined at the event by bill cosponsor Rep. Joe Lachance (R-Manchester), attorney Paul Twomey, attorney Jonathan Cohen, and Matt Simon of the Marijuana Policy Project.
The committee hearing followed, scheduled for 2:30 p.m. ET in Room 204 of the Legislative Office Building.
HB 618, sponsored by Rep. Schroadter and a bipartisan group of seven co-sponsors, would make possession of up to one ounce of marijuana punishable by a civil fine of up to $100. It would also make cultivation of up to six marijuana plants a Class A misdemeanor instead of a felony.
Currently, possession of any amount of marijuana is a misdemeanor punishable by up to one year in prison and a fine of up to $2,000. New Hampshire is the only state in New England that treats simple marijuana possession as a criminal offense with the potential for jail time.
"This bill represents a big step toward more sensible marijuana policies in New Hampshire," said Matt Simon, the Goffstown-based New England political director for the Marijuana Policy Project (MPP). "There is no reason to saddle someone with a permanent and life-altering criminal record for using a substance that is safer than alcohol."