Florida: Debbie Wasserman Schultz Senate Bid Strongly Opposed By The Cannabis Community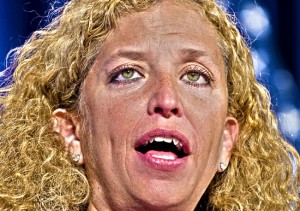 Democratic National Committee Chairwoman Debbie Wasserman Schultz's interest in running for U.S. Senate has encountered strong resistance from a traditional ally of her party: medical marijuana activists.
Because of her bad congressional votes and her ham-fisted criticisms of a Florida medical marijuana initiative last year, four political groups that advocate prescription cannabis and drug decriminalization vowed to campaign against Wasserman Schultz if she were to seek a Senate seat in 2016, reports Marc Caputo at Politico. (<-- The entire piece, at that link, is really worth reading.)
"She's voted repeatedly to send terminally ill patients to prison. And we're certainly going to make sure Floridians know that — not to mince words," said Bill Piper, national affairs director with the Washington-based Drug Policy Alliance (DPA).
"This issue is evolving very quickly, and hopefully she will evolve," Piper said. "But if she doesn't, you can expect medical marijuana patients and supporters to dog her on the campaign trail."
Wasserman Schultz's office declined to comment.
The threats from Piper's group — echoed by People United for Medical Marijuana in Florida and the national Marijuana Policy Project and Americans for Safe Access — marked the only major public reaction to the news, first reported by POLITICO, that Wasserman Schultz might leave her safe South Florida congressional seat. She is said to be considering a Senate bid if Republican Sen. Marco Rubio relinquishes his seat to run for president.
Photo of Debbie Wasserman Schultz: Is That Baloney?