Alaska: Wasilla Bans Pot Brownies; Says Smoking Weed Still Illegal If It Pisses Off The Neighbors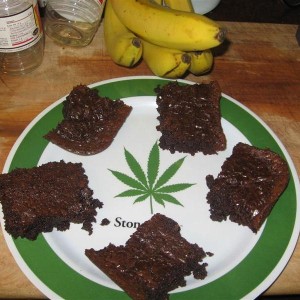 By Steve Elliott
Hemp News
Well, nobody can say the Wasilla City Council wasn't ready when marijuana legalization came along, no sir. Less than three hours before recreational cannabis became legal across the state, the council on Monday banned making pot brownies at home.
The city, known for its lax rules on everything from ATVs to big box stores, suddenly got all into restricting personal freedom and passed what for now look to be the strictest local laws covering recreational marijuana use in Alaska, reports Zaz Hollander at .
On a 4-2 vote, the council limited marijuana use within city limits to private proprty smoking, or consuming medibles if they were made outside Wasilla. Even smoking marijuana at home is still illegal, if it bothers the neighbors.
The new regulations ban making "edibles, concentrates or extracts" at home.
Within Wasilla, it's also now illegal to transport more than 2 ounces of cannabis inside one vehicle. State law allows up an an ounce per adult, but doesn't limit totals.
The new Wasilla regulations prohibition marijuana clubs and require that the use of cannabis "cease immediately" if other residents or neighbors are "disturbed." Wait, I thought they already took a vote on this?!
"This is a first step," claimed Stu Graham, the newest member on the city council who also proposed most of the regulations. "This is a building block."
The two council members who voted against the marijuana laws called them premature.
"A lot more work needs to go into it," said Colleen-Sullivan-Leonard, who questioned how police will enforce these laws. She expressed concern about police "knocking on the door and walking into somebody's house to see what kind of brownies they're making, or Jell-0."
Even the city's attorney, Richard Payne, admitted that section of the law "will be a difficult provision to enforce." Even if someone is caught in the act of making brownies, they'd need to get tested at the state crime lab at Wasilla's expense.
A small crowd at the meeting showed its displeasure with the tomfoolery with frequent head shakes and grumbles.
"The ignorance displayed by this council is amazing," Keenan Williams said during a break. Williams and his wife, Sara, hope to set up the Midnight Greenery marijuana dispensary in Wasilla next year after the state clarifies rules for retail operations.