Israel: 'We Can Become A Cannabis Superpower,' Says Green Leaf Party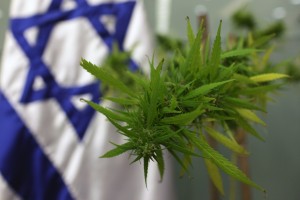 By Steve Elliott
Hemp News
Running up to the March 17 elections, Israel's Green Leaf Party on Wednesday announced a comprehensive economic study showing higher than expected revenues of about NIS 3 billion per year for the state if the cannabis market is regulated by law.
The study, conducted by the head of military budgets, Elad Daudi, an expert military economist, is based on data from a study published by the Jerusalem Institute for Market Studies, along with data from Colorado, reports Israel's Cannabis Magazine.
The new study shows economic benefits both from stopping prosecution of marijuana consumers, and from the expected tax to the state treasury which would result from a legal cannabis market. According to the study, NIS 700 million would be saved by the state on enforcement expenditures, courts, arrests, etc., with at least NIS 2.2 billion from revenues from all taxes.
Further, those amounts don't include the expected revenues once the new market is fully reopened. The cannabis industry is expected to quickly product about 10,000 new jobs. The exportation of medical cannabis overseas alone is expected to result in NIS 2 billion per year in state revenues.
The study was based on data backed by the authorities, which assumes that about 14.5 percent of Israel's population consumes cannabis on a regular basis. It was also determined that cannabis users consume an average of about 8 gram per month and pay NIS 100 for each gram.
The study estimated production costs were taken about NIS 7 or 8 per gram, to which should be added transportation and distribution costs, excise tax, and retail profit.
"The calculations were based on research and the most conservative assumptions that can be assumed about the cannabis market," the study said.
"This study only proves that the situation today is such that every politician, without exception, who do not intend to regulate the cannabis law, is an irresponsible person who is not familiar with the data and is not fit to serve as an elected public official," said Oren Leibovich, chairman of the Green Leaf Party.
"Israel can not say no to income of 3 billion annually and to 10,000 new jobs," Leibovich said. "The state must do something dramatic and daring for its residents. It must generate income for its natural resources.
"By doing so, Israel can become an economic power within five years," Leibovich said.
Graphic: Times of Israel