U.S.: Sen. Ted Cruz Says He Supports States' Rights To Legalize Marijuana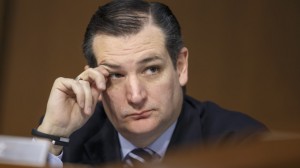 At least these days, both major political parties in the United States are smart enough to jockey for position on the marijuana issue rather than running away from as they did in the recent past. U.S. Sen. Ted Cruz (R-TX) on Thursday told attendees of the Conservative Political Action Conference that he supports states' rights to legalize and regulate marijuana, notwithstanding federal law.
Fox News Channel's Sean Hannity asked Sen. Cruz whether it was a good or bad idea for Colorado to legalize and regulate marijuana, to which he replied:
"Look I actually think this is a great embodiment of what Supreme Court Justice Louis Brandeis called 'the laboratories of democracy.' If the citizens of Colorado decide they want to go down that road, that's their prerogative. I personally don't agree with it, but that's their right."
A video of the exchange is available at http://bit.ly/1aqXrAC .
Sen. Cruz is the latest Republican presidential hopeful to take such a position. Sen. Rand Paul (R-KY), Sen. Marco Rubio (R-FL), and former Gov. Rick Perry (R-TX) have also said they think the federal government should not interfere in states that legalize marijuana.
"Marijuana policy reform is, at its heart, a conservative issue," said Don Murphy, a former Republican state legislator from Maryland now serving as a federal policies analyst for the Marijuana Policy Project (MPP). "This is a matter of Federalism, the 10th Amendment, and state autonomy, which are core conservative priorities.
"Marijuana prohibition is a failed federal government policy, and rolling it back should be on the agenda of every principled Republican lawmaker," Murphy said. "It's encouraging to see so many Republican presidential hopefuls have embraced the position that the federal government has no business interfering in state marijuana laws.
"Colorado's laws were carefully crafted to improve public safety, and the tension between state and federal laws is undermining its efforts," Murphy said. "Licensed, state-legal marijuana businesses are being denied banking and other basic financial services because marijuana remains illegal under federal law. They are needlessly being forced to operate on an all-cash basis, creating public safety concerns that could easily be avoided.
"We hope to work with Sen. Cruz and his Republican colleagues in Congress to develop legislative solutions to the problems created by federal marijuana prohibition," Murphy said. "We need to guarantee states have the freedom to adopt and implement the policies that work best for them."
Photo of Sen. Ted Cruz: AP/J. Scott Applewhite