Utah: DEA Warns Rabbits May Stay High All The Time If Medical Marijuana Is Passed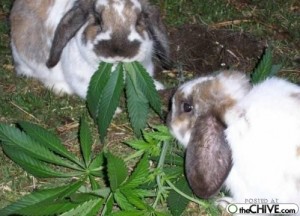 By Steve Elliott
Hemp News
With even the Mormon-dominated state of Utah now considering a bill that would allow patients with certain debilitating conditions to be treated with edible forms of cannabis, it's clear that change is coming everywhere, regardless of political stripe.
But last week, that didn't stop an agent of the federal Drug Enforcement Administration from testifying to a Utah Senate panel that if the bill passes, the state's rabbits and other wildlife may "cultivate a taste" for marijuana and stay high all the time, reports Christopher Ingraham at The Washington Post .
"I deal in facts," claimed DEA Special Agent Matt Fairbanks, who's been working in Utah for a decade, as he warned the Senate of bhang-bombed bunnies. "I deal in science," said Fairbanks, who's a proud member of the "marijuana eradication" team in the state.
Fairbanks bragged about all the time he's spent pulling up back-country pot grows in the Utah mountains. He said that at some illegal marijuana grow sites, he saw "rabbits that had cultivated a taste for the marijuana."
"One of them refused to leave us, and we took all the marijuana around him, but his natural instincts to run were somehow gone," Fairbanks claimed of one stoned bunny.
Apparently the spectre of high hares wasn't scary enough to keep the Senate panel from approving the bill; it was sent to the full Utah Senate, where it will be debated this week.
Photo: The Chive