New York: Advocates Call NYPD's Statement Linking Marijuana and Shootings 'Reefer Madness'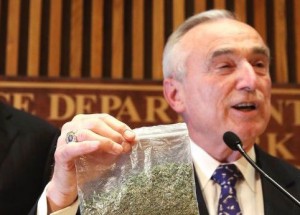 Drug Policy Alliance: The Real Way to Address Violence Related to Marijuana is through Legalizing and Regulating It
NYPD Commissioner William Bratton this week gave a press conference about the rising number of shootings in NYC. Incredibly, Bratton went on to blame marijuana, of all things, for the increase in violence.
"Commissioner Bratton's claims today about marijuana are straight out of the tired old drug war handbook and frankly, are ridiculous," said gabriel sayegh, managing director of policy and campaigns at the Drug Policy Alliance (DPA). "What evidence is Bratton relying on in making these statements? Hasn't he heard that correlation does not equal causation?
"Marijuana is the most widely used illicit substance in the U.S. and in New York and, therefore, is far more likely to be found on New Yorkers than any other drug," sayegh said. "It appears that finding marijuana on the scene of a violent crime is enough for Bratton to assert a causal link.
"Using that rationale, we can make other causal links to violence – for instance, if police find a cell phone at the scene of a violent crime, then certainly the cell phone must cause that crime," sayegh said.
"If, indeed, there is violence in the illicit marijuana marketplace between those who are selling marijuana, there is one very basic and smart way to solve that problem: end marijuana prohibition," sayegh said. "Prohibition is the absence of control, and by legalizing and regulating marijuana, we can regulate the marijuana marketplace.
"If Bratton wants to end the violence in the illicit marijuana marketplace, he should support the Marijuana Regulation and Taxation Act introduced by Senator Liz Krueger and Assemblywoman Crystal Peoples-Stokes," sayegh said. "We know more policing won't fix these problems.
"If Commissioner Bratton is serious about the health and safety of New Yorkers he needs to let go of the outdated and dangerous reefer madness propaganda," sayegh said. "It's time for a new approach."
Photo of NYPD Commissioner William Bratton: AMnewyork