U.S.: Recording Artist 2 Chainz To Examine Weed On Episode Of 'Most Expensivest Shit'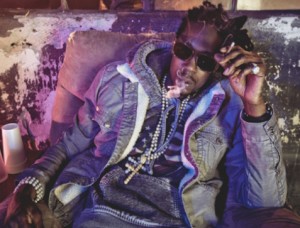 Grammy-Nominated 2 Chainz and GQ Team Up For Season 2 of Hit Web Series "Most Expensivest Shit"
13-Episode Season Launches Tuesday on Condé Nast Entertainment's THE SCENE with Brand New Episode, "Weed"
Platinum selling, Grammy-nominated recording artist 2 Chainz has teamed up with GQ again for the highly anticipated second season of the hilariously entertaining web series "Most Expensivest Shit." In each episode, host 2 Chainz showcases the most outrageous toys of the rich, revealing the most rare, sought-after, and expensive extravagances available today.
The 13-episode season launches on Tuesday on Condé Nast Entertainment's THE SCENE with "Weed," which finds the candid host testing out the most expensive marijuana products in Los Angeles.
Watch Season 2, Episode 1 on THE SCENE here or on GQ's YouTube channel here.
Watch the Season 2 trailer here.
In season two, 2 Chainz shops for exotic animals, drinks up with a water sommelier, drives customized cars, and wears diamond shoes along with many other surprises. This season, 2 Chainz will also be joined by several celebrity guests including world-renowned DJ and music producer Diplo, hip hop recording artists Big Sean and French Montana, Los Angeles Lakers basketball star Nick Young (Swaggy P), to name a few.
A new episode will be released every Tuesday and will go biweekly beginning March 24 on THE SCENE, the digital video storytelling network from Condé Nast Entertainment.
"2 Chainz is pretty much an expert on living the high life," raved Perez Hilton while popular food site, Food Republic, declared 2 Chainz the "king of expensive shit!" The wildly successful first season found 2 Chainz experimenting with the world's most expensive cheeseburger, hat, toothbrush and bulletproof suit, among other luxury goods and experiences.
All episodes of Season 1 can be viewed here.
Currently, 2 Chainz is on tour in Australia with Drake, making stops in major markets including Melbourne, Sydney and Brisbane. Last month, 2 Chainz announced his independent record label, The REAL University aka The Real U aka T.R.U.
To celebrate, T.R.U. released their first compilation mixtape TRU Jack City, which featured all original music from T.R.U. label artists Cap 1, Skooly, Fresh (aka Short Dawg), Young Doplh, Bankrool Fresh, and 2 Chainz.
Watch "Keep It 100" music video here.
Watch "Please Don't" music video here.
Download the mixtape here.
For more information on 2 Chainz, visit www.2chainz.com .
Photo of 2 Chainz: This Is 50