New Hampshire: House Approves Removing Criminal Penalties For Marijuana Possession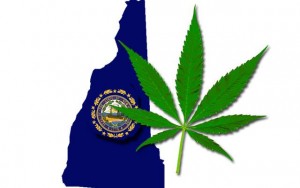 Bill with bipartisan support would replace potential jail time with a civil fine for possession of small amounts of marijuana
The New Hampshire House of Representatives on Wednesday overwhelmingly approved a bill 297-67 that would remove criminal penalties for possession of small amounts of marijuana. The measure will now be considered in the Senate.
"We're pleased to see such strong legislative support for this important legislation," said Matt Simon, Goffstown-based New England political director for the Marijuana Policy Project (MPP). "We hope the Senate will agree with their colleagues in the House and the vast majority of state voters that it's time to stop criminalizing people for simple marijuana possession."
HB 618, sponsored by Rep. Adam Schroadter (R-Newmarket) and a bipartisan group of seven co-sponsors, would make possession of up to one-half ounce of marijuana punishable by a civil fine of $100 for a first offense, $200 for a second offense, and up to $500 for third or subsequent offenses. Currently, possession of any amount of marijuana is a misdemeanor punishable by up to one year in prison and a fine of up to $2,000.
New Hampshire is the only state in New England that treats simple marijuana possession as a criminal offense with the potential for jail time.
"Nobody should face jail time and a permanent criminal record just for possessing a substance that is far less harmful than alcohol," Simon said. "Granite Staters do not want their state government to continue wasting its resources on enforcing such an unfair and outdated policy. Hopefully our state senators and governor will respect that and move forward with this legislation."
Three out of five adults in New Hampshire (61 percent) support removing criminal penalties for marijuana possession, according to a WMUR Granite State Poll released in April 2014. Only 24 percent said they were opposed.
Nineteen states and the District of Columbia have removed the threat of jail for simple marijuana possession.