Minnesota: Pot (The Movie) World Premiere Set For Minneapolis-St. Paul Film Festival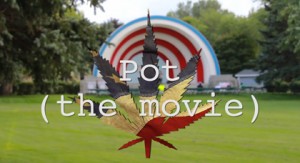 With April 20, the global marijuana holiday, just around the corner and marijuana policy becoming an ever-increasing political hot button subject, a cannabis documentary is set to debut on the big screen.
Pot (the movie) will have its world premiere on April 11, at St. Anthony Main Theater as part of the Minneapolis-St. Paul International Film Festival. Filmmaker Michael Hope brings together the modern information on marijuana use and products, current law enforcement perspectives, as well as the history and science that led us to this crossroad in history.
"If people are going to have an opinion on marijuana, they should have accurate, current information for an informed opinion," Hope said. "This is that film.
"This is an educational documentary, intended to help people have an informed opinion on the subject of marijuana," Hope said. "Pot (the movie) has original, timely content, which people need to see now. It is unlike any movie on the subject, showing important information about current science, use, laws, and effect of current policies."
Hope spent 2014 traveling across the country exploring the issue between legalization in Colorado and the strict prosecution in his home state of South Dakota. Along his travels, Hope came across some wonderful stories, especially on the medical side of the marijuana story, from mother, Angela Brown, who is being prosecuted for using cannabis as medicine for her son's traumatic brain injury after traditional medicine failed, to other law-abiding citizens being affected by outdated public policy.
Pot (the movie), is a funny, touching and timely film which educates a historically misinformed country to current science, policy, modern products, use, health and economic benefits of legalization, and the dangers of ignorance.
Within the film, the audience will witness cutting edge, never before seen content including dispensary tours, suggested servings for first time users, differences in strains and the effects of each, introduction and explanation of cannabinoids, introduction and explanation of the endocannabinoid system.
"I would like the audience to take away from the film that at minimum, please, whatever substance you are considering putting in your body, educate yourself," said Hope, a father of three. "For parents, I hope that they understand that in order to truly protect their kids, they need to understand that pot is not equal to, or the same as any other drug, and that when it comes to drugs in general, for the sake of their children and a meaningful relationship with their children, they should get up to date on pot and all other drugs, and continue to educate themselves."
Hope is planning a national tour for the film, working with parent organizations and other interested advocates to host theatrical screenings.
Trailer for Pot (the movie) - http://www.potthemovie.com/