U.S.: Former N.M. Gov. Gary Johnson Calls WA State Pot Rules 'Worst-Case Scenario'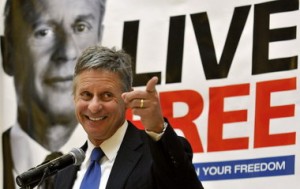 By Steve Elliott
Hemp News
Former two-term New Mexico Governor Gary Johnson, now CEO of a marijuana company, on Sunday told an audience of cannabis industry representatives that voters, not politicians, are behind the legalization movement, and he called Washington state's troubled implementation of legalization Initiative 502 a "worst-case scenario."
Johnson, a vocal advocate of legalization and former Presidential candidate who plans to run again next year, gave the keynote speech at the Oregon Medical Marijuana Business Conference, reports Noelle Crombie at The Oregonian. About 750 people attended the conference, according to organizers.
Johnson, CEO of Cannabis Sativa, a publicly traded company producing marijuana-infused products.
When it comes to Washington's botched implementation of flawed legalization Initiative 502, Johnson was very critical of the over-taxation of cannabis in that model.
"How are they going to regulate it and make it a legal product? They have screwed it up as bad as they possibly can," Johnson said. "They have taxed it to the level where if you are a prior user of marijuana, prior to it being legal in Washington, you are still consuming it on the black market because of how expensive it is. It's the worst-case scenario and they have it playing out in Washington state."
"Pay attention to how you are taxing it," Johnson said. "You are moving the entire industry from a black market.
Johnson also pointed out that Washington state's use of the per se 5 nanograms per milliliter of blood in cannabis DUI cases is flawed. "We should be scared to death of people on the highways impaired but in the case of marijuana, be aware that presently we don't test for impairment," he told The Oregonian. "We simply test for the presence of marijuana."
The Presidential candidate is also smart enough to see through the scare headlines regarding children and marijuana-infused edible products. "Are kids consuming edibles? No, they are not," Johnson said. "They are really not. It's just made up. It's just a baloney topic. It doesn't happen. Parents take care of their marijuana stash."
When asked which state has the best marijuana, Johnson answered, "No matter what state you are in that is there the best weed is produced. The best weed is produced at that very spot no matter where you are, no exception."
Photo of Gary Johnson: AP Photo/Albuquerque Journal/Eddie Moore