U.S. Federal Medical Marijuana Bill Gains Momentum In Senate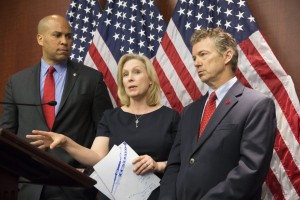 By Steve Elliott
Hemp News
It's funny what a difference a week makes. Last Tuesday, when a federal medical marijuana bill was introduced by three Senators, many political observers dismissed its chances out of hand. But now the push to legalize medicinal cannabis at the federal level is gaining momentum in the Senate, drawing co-sponsors from both parties.
The Compassionate Access, Research Expansion, and Respect States (CARERS) Act, introduced by Sens. Kirsten Gillibrand (D-N.Y.), Cory Booker (D-N.J.), and Rand Paul (R-Kentucky) would reclassify marijuana as a Schedule II drug, provide access to banking services for cannabis businesses, and potentially fuel more medical research into the herb, reports Jake Miller at CBS News.
"The time has come for the federal government to stop impeding the doctor-patient relationship in states that have decided their own medical marijuana policies," said Sen. Dean Heller (R-Nevada), as he signed onto the proposal last week.
"This bipartisan legislation puts Americans who are suffering first by allowing Nevada's medical marijuana patients, providers, and businesses that are in compliance with state law, to no longer be in violation of federal law and vulnerable to federal prosecution," Sen. Heller said.
Sen. Barbara Boxer (D-California) threw her support behind the CARERS Act on Wednesday. "Senator Boxer is a strong supporter of California''s medical marijuana law and she believes that patients, doctors and caregivers in states like California should be able to follow state law without fear of federal prosecution," said Zachary Coile, Boxer's communications director, in a statement.
Even as the bill gains momentum, it still faces an uphill battle to approval in a GOP-dominated Congress. Senate Judiciary Committee Chairman Chuck Grassley (R-Iowa) is opposed to the measure, and he has already arrogantly said he's unlikely to schedule it for a hearing.
Photo of Sens. Booker, Gillibrand, and Paul: Michael Reynolds / European Pressphoto Agency