D.C.: New Beer Smells Like Marijuana (But Doesn't Have Any In It)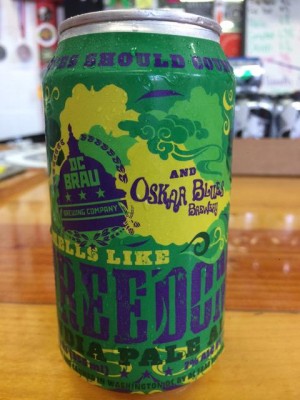 By Steve Elliott
Hemp News
Those who enjoy the smell of marijuana along with their beer might be interested in a new offering from the District of Columbia's DC Brau brewery. "Smells of Freedom" is the brewery's newest seasonal India pale ale, and it doesn't contain any actual cannabis; the smell and taste were created with a combination of three hops, according to the company.
DC Brau founder Brandon Skall told The Washington Post that he doesn't smoke pot, although he believes those who want to should have that freedom, reports Catherine Moran at DC Inno.
The beer, fermenting since last fall, is only available in the District of Columbia, and Skall said he expected the 120 barrels of Smells Like Freedom to sell out quickly. DC Brau and Longmont, Colorado-based Oskar Blues Brewery, both of which can their beer rather than bottling it, had been thinking for more than a year of teaming up on a project.
Skall last fall laid out the case for doing a beer together based around D.C.'s legalization fight; Oskar executives liked the idea, and brewers there took to their lab, Skall said. They found three experimental hops that, when combined, smelled a lot like cannabis.
"The experimental hops were definitely unique," said DC Brau brewer Christopher Graham. "Some were over the top with melon. Some had a lot of berry notes. But all had that undertone of piney, resinous, dank quality that someone would expect from a nugget" of marijuana, he said.
Smells Like Freedom debuted at a special party in the District on St. Patrick's Day.
Photo: Best Street Journal