Louisiana: Voters Could Decide On Marijuana Legalization Next Year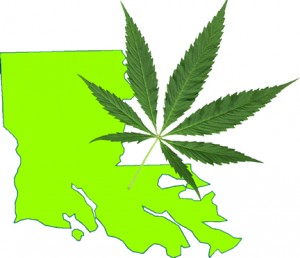 By Steve Elliott
Hemp News
A Louisiana lawmaker has proposed putting marijuana legalization on the Presidential election ballot next year for a statewide vote.
Rep. Dalton Honore (D-Baton Rouge) has filed a bill, HB 117, to put possession, distribution and dispensing of cannabis and its derivatives on the Louisiana ballot November 8, 2016, reports Julia O'Donoghue at The Times-Picayune. Voters would be deciding not just the Presidential race, but also Congressional seats that day.
In a Louisiana State University survey last year, 79 percent of Louisianans indicated support for some form of marijuana legalization. If Honore's initiative got on the ballot and passed, people 21 and older would be able to possess and buy cannabis without criminal charges.
"If I can get it to the people, it will pass with flying colors," Honore said.
According to Honore, criminal charges for marijuana have already ruined too many lives in Louisiana. As of June 2013, 1,372 Louisianans were serving prison sentences for simple cannabis possession. The average marijuana sentence in Louisiana is 8.4 years; more than 78 percent of these offenders are African American.
Honore said that while he's heard privately from several lawmakers who support legalization, they don't feel they can openly vote for its approval But he thinks some of those saw guys might vote for a bill letting the voters decide for themselves.
"[Lawmakers] tell me 'I'm for your bill, but I can't afford to come out for it," Honore said.
Rep. Honore has also filed a separate bill, HB 6, that would allow medical marijuana. He and state Sen. Fred Mills (R-New Iberia) brought up very similar legislation last year, but that proposal was killed in the Senate Health and Welfare Committee.
Louisiana Atty. Gen. Buddy Caldwell, along with the powerful Louisiana Sheriffs Association, opposed the medical marijuana legislation for power-hungry paranoid reasons of their own.
Gov. Bobby Jindal has said he would be open to medical marijuana, as long as it was "tightly regulated," but he is opposed to full legalization.
Marijuana dispensaries could also open in Louisiana on Indian tribal land, side-stepping any legislative requirements. The U.S. Department of Justice has said it will not prevent Indian tribes from growing cannabis on their sovereign lands.
No Louisiana-based tribe has yet expressed a public interest in growing or selling marijuana, but the state is home to at least four federally recognized tribes: the Chitmacha, the Coushatta, the Jena Band of Choctaw Indians, and the Tunica-Biloxi Indian Tribe of Louisiana.