Global: BBC Asks -- Can Cannabis Oil Cure Cancer?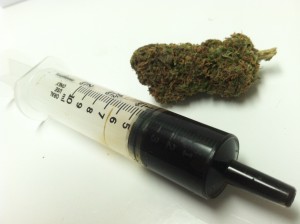 By Steve Elliott
Hemp News
The ultra-respectable BBC (British Broadcasting Corporation) on Monday gave serious coverage to the wave of reports on the effectiveness of cannabis oil in fighting cancer and other serious diseases.
Chemotheraphy doesn't work for many cancer patients, and once the doctors say there's nothing more they can do, patients often turn to cannabis oil as a last resort, as a chance at life.
"Left with no options, everybody speaks about cannabis oil," said Sarah Amento, a California cancer patient. "I want to live. I have to live."
Cannabis has been used for centuries as a medicine; Britain's leading cancer research group is interested, according to spokeswoman Kat Arney. "Turning that into treatments is a long road, and certainly it's not going to be 'the one cure' for cancer, because nothing is," Arney said.
"The cannabis works," said Stefanie Larue, a cancer patient who used cannabis oil -- and only cannabis oil -- to fight her disease. "No chemo, and I only used cannabis. The tumors are gone, and the scans I have are evidence and proof of that. It's kind of like, what more do you need?"
"Until somebody proves it -- whether it be the manufacturers who put together a clinical trial, whether it be doctors who get government funded to do it, or patients who say, 'here are my records, let's put it in a medical journal and be transparent with what I had, what I treated it with, and what the outcome was,' well until then it's snake oil," said Prof. David Agus of the University of Southern California, one of the world's leading cancer researchers.
There are hundreds of lab reports that have been published showing very promising results. Dozens of charities and organizations are starting to think there's something in it, according to the BBC.
Sarah Amento uses the cannabis oil, because, she says, "I believe it's the best option. I've seen it work for others, and I hope it will work for me."