Maine: Statewide Ballot Initiative To Legalize Marijuana Filed Tuesday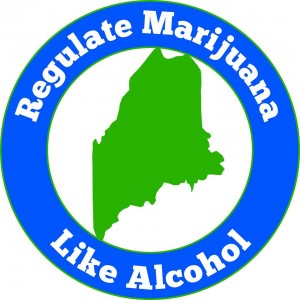 Measure backed by diverse committee of Maine citizens — including state and local officials, businesspeople, and clergy — would establish a legal market for licensed businesses to sell marijuana to adults 21 and older
A statewide ballot initiative to regulate marijuana like alcohol will be filed Tuesday with the Maine Secretary of State.
The leader of the Campaign to Regulate Marijuana Like Alcohol, David Boyer of Falmouth, will submit the language along with the signatures of five registered Maine voters who support the measure, as required by state law. The five signers will be State Rep. Diane Russell of Portland; local farmer and former Republican State Rep. Aaron Libby of Waterboro; Androscoggin County Commissioner and Lewiston School Board Member Matt Roy; Rev. Deane Perkins of Belfast; and Sherry DaBiere, a York-based real estate agent and grandmother.
"I am supporting this initiative because it will make Maine a safer place for my children and my grandchildren," DaBiere said. "Marijuana should be regulated and controlled so that we know who is selling it, what they're selling, and where it's being sold.
"I do not want future generations to be exposed to the same failed prohibition laws that I had to grow up with," DaBiere said. "It's time to end the reefer madness."
Under the proposed initiative, adults 21 years of age and older would be allowed to possess up to one ounce of marijuana, grow up to six marijuana plants in their homes, and possess the marijuana produced by those plants. The measure would establish a tightly regulated system of licensed marijuana retail stores, cultivation facilities, product-manufacturing facilities, and testing facilities, and create rules governing the production, testing, transportation, and sale of marijuana and marijuana-related products, such as testing, labeling, and packaging requirements.
Municipalities would be allowed to prohibit the operation of marijuana establishments. Marijuana would be subject to a 10 percent sales tax in addition to the standard sales tax, and revenue generated by marijuana sales would be allocated public education.
"Marijuana is objectively less harmful than alcohol, and this initiative simply proposes that we treat it that way," Roy said. "If this initiative passes, adults would be able to purchase marijuana in taxpaying businesses instead of in the underground market. It would generate significant new revenue for our public schools."
The Maine Secretary of State has 15 days to review the initiative application and either reject it, accept it, or provide revisions to the proposed measure. Once it is approved, the Campaign to Regulate Marijuana Like Alcohol will have until the end of January 2016 to collect the approximately 62,000 signatures of registered Maine voters that are needed to qualify for the November 2016 ballot.
"Marijuana prohibition is a failed government program, and we're proposing a sensible and more responsible alternative," Libby said. "This initiative will ultimately replace the underground market with legitimate businesses that create good jobs for Maine residents.
"Regulating marijuana like alcohol just makes sense," Libby said.
Graphic: Campaign to Regulate Marijuana Like Alcohol - Facebook