Colorado: 9-Year-Old Girl Seizure-Free With Medical Marijuana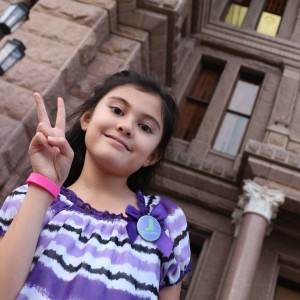 By Steve Elliott
Hemp News
Some may see medical marijuana as a long shot in Texas, but don't tell that to nine-year-old Alexis Bortell. Alexis plans to be the poster girl who gets medicinal cannabis legalized in the Lone Star State.
"I think it should be legal in Texas because every child should have a normal life," Alexis said, reports Robert Wheeler at NewsFix.
For most of her life, Alexis has had to deal with daily epileptic seizures. Her parents were advised by a specialist and doctors that medicinal cannabis might help. But getting ahold of it was another matter in Texas.
"We've always said if Alexis' health or life was in danger we would leave," said her father, Dean Bortell. After one particularly bad seizure last month, the Bortells reluctantly decided to move to Colorado, where Alexis now has access to the medicine she needs.
The Team Alexis Facebook page shows an amazing transformation. "Since the first dose, she has not had a single symptom or seizure and we're on day 22 now," Dean said.
Alexis' dad said the family hasn't stopped trying to get medical marijuana legalized in Texas. This session, the Texas Legislature has an unprecedented 11 marijuana bills.
Alexis and her family said they would love to come home to Texas, but can't do that without the passage of the House medical marijuana bill they support.
"I love Texas because my family is here, my school, and my home," Alexis said last month.
"To allow Alexis and all of the refugees here in Colorado from Texas and other states to come home; you know, we would be able to come back to Texas," Dean said.
Photo of Alexis Bortell: Team Alexis Facebook page