Georgia: Medical Marijuana Bill Signed By Governor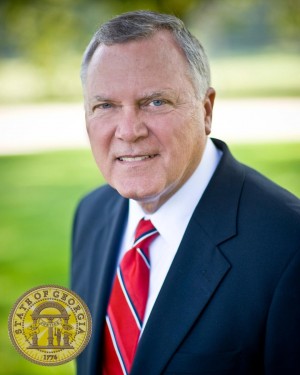 By Steve Elliott
Hemp News
Georgia Gov. Nathan Deal signed a medical marijuana bill into law on Friday in a ceremony on the Capitol steps.
The bill cleared its final legislative hurdle on Thursday when the Georgia House voted 160-1 to approve a Senate compromise that only slightly tweaked the original House version by state Rep. Allen Peake (R-Macon), reports Bill Hendrick at the Associated Press.
After an emotional debate which had lasted, all told, for two years, House Speaker David Ralston hugged Janea Cox, 33, mother of 5-year-old Haleigh Cox, who has intractable epilepsy and is one of the half-a-million Georgians Peake said should benefit from the new law.
"Some days make it all worthwhile," Ralston said.
Peake's bill had already passed the House by a huge margin. It originally called for people with nine medical conditions to be eligible for treatment with cannabis oil that has only minimal amounts of tetrahydrocannabinol (THC), which producers marijuana's characterisic "high."