California: Fresno Deputy Police Chief Arrested For Heroin, Oxycodone, Marijuana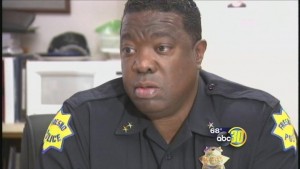 By Steve Elliott
Hemp News
The deputy police chief of Fresno, California, was arrested on Thursday and charged with multiple conspiracies to distribute heroin, oxycodone and marijuana, according to the Federal Bureau of Investigation.
Keith Foster, 51, was arrested along with three other Fresno residents, according to a statement from the FBI, reports Eric M. Johnson at Reuters.
Foster had always appeared just behind the police chief at press conferences.
"It is important that we do everything we can to maintain and enhance the trust that our citizens have in us," Fresno Police Chief Jerry Dyer said in a "he must be kidding" kind of statement at a news conference after Deputy Chief Foster's arrest. "When things of this nature happen, it does serve to erode that trust," the Chief admitted.
"This is a very sad day for the Fresno Police Department, the citizens of Fresno, and the law enforcement profession," Chief Dyer said, report Rick Montanez, Corin Hoggard and Sontaya Rose at ABC 30.
Dyer claimed he was "just made aware" of the case" after Foster was arrested n Thursday. Federal investigators were authorized to use wiretaps on telephones.
"The message I want to send to everyone, when we place this badge on our chest, it's a badge of honor," claimed Chief Dyer. "There's a lot of responsibility that goes along with it."
The three other suspects arrested Thursday afternoon were 41-year-old Rafael Guzman, who worked with Foster to distribute heroin, according to authorities; 48-year-old Randy flowers, accusing of conspiring to distribute oxycodone; and 35-year-old Jennifer Donebedian, arrested for conspiracy to distribute marijuana. Two other Fresno residents also face drug charges, but haven't yet been arrested, according to authorities.
The arrests followed a year-long investigation by the FBI and the Bureau of Alcohol, Tobacco, Firearms and Explosives. According to authorities, the investigation showed Foster and others were involved in conspiracies to distribute heroin, oxycodone, and marijuana.
Foster remained in custody and will make an initial appearance on Friday, according to U.S. Attorney's Office spokeswoman Lauren Horwood.
Foster called a relative in December 2014, after filing a prescription for 100 oxycodone pills, and said he had "100 of those things," according to an ATF agent's criminal complaint filed on Wednesday.
The agent said he believed Foster then drove to the relative's house to deliver the pills.
Later that month, investigators said they intercepted a call between Foster and "known drug dealer" Rafael Guzman. They spoke in code, but after Foster said, "What's the ticket?" Guzman asked "How good of clothes they want." Investigators said they continued to talk about China White, which is a type of heroin.
Photo of Deputy Police Chief Keith Foster: ABC 30