U.S.: Willie Nelson Launching His Own Brand Of Marijuana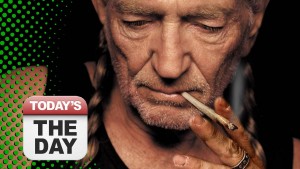 By Steve Elliott
Hemp News
Music legend Willie Nelson, now 81, plans to launch his own signature brand of marijuana called Willie's Reserve.
According to PR person Michael Bowman, a veteran hemp and cannabis lobbyist who serves as the new brand's spokesperson, Willie wants the signature cannabis strain to be a reflection of his passions, reports James Joiner at The Daily Beast.
"Ultimately, it's his," Bowman said. "But it was developed by his family, and their focus on environmental and social issues, and in particular this crazy War On Drugs, and trying to be a bright light amongst this trail as we're trying to extract ourselves from the goo of prohibition."
"Really he wants it, at the end of the day, to envelop what his personal morals and convictions are," Bowman said. "So from the store itself to how they'll work with suppliers and how things are operated, it's going to be very reflective of Willie's life. I think it's safe to say there will be stores that roll out in the states where marijuana has become legal," Bowman ventured.
According to Bowman, the stores will carry both signature strains grown under Willie's oversight, and other strains of cannabis as well. "There will be our own, and then there will be opportunities for other growers, who meet quality standards," he said.
"In the next calendar year there will be movement," Bowman said.
"This is a culmination of Willie's vision, and his whole life," Bowman said. "I'm not sure any of us could have predicted how fast the dominoes would start falling once they started falling (as far as legalization). And you have the men like Willie who's been out there getting arrested, standing up saying what's right, and not wavering from that core."
Photo: PopSpot/YouTube