California: Medical Marijuana Prisoner Dr. Marion "Mollie" Fry Has A Release Date!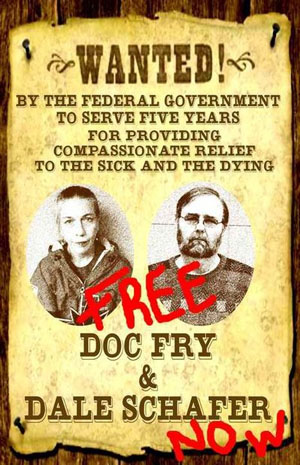 By Steve Elliott
Hemp News
Medical cannabis freedom fighter Dr. Marion "Mollie" Fry, 58, who was incarcerated on May 2, 2011 after more than six years of litigation and three years of appeals, and sentenced to five years in federal prison for "manufacturing and distributing marijuana" in California, a medically legal state, has finally learned of her release date -- and it's Tuesday, March 31, 2015, according to the website Can-Do Justice Through Clemency.
At the time of the raid on her family home, she was growing, along with her husband, Dale Schaefer, 34 plants in a small greenhouse on her rural property just north of Sacramento, medicating from a double mastectomy and subsequent chemotherapy treatments. She was also shearing her harvest with needful patients at no charge.
"We weren't selling the medical cannabis to my patients," Dr. Fry said. "We had staff and were charging $10 for delivery only, and that's a common practice today."
According to Schafer, the couple had never grown more than 44 plants in a given year -- well below the 99 plant limit set forth by the State of California for medical use -- and never sold a leaf. But under a little known facet of federal law, more than 100 plans grown in a five-year period -- accumulatively -- is cause for a mandatory five-year sentence.
"I knew it would be soon but I did not think it would be this quick," Dr. Fry posted. "I am so happy to finally close the book on this part of my life and to start a new one.
"As this part ends, I am grateful for so much love and support and ready to get going on the future," Dr. Fry wrote.
Dr. Fry, who has three biological children and two stepchildren, has already served three-and-a-half years of her five-year federal sentence (on a first offense).
"I am grateful for every aspect of my life -- the hard times and wonderful ones, the difficulties I have faced throughout my life compile such an extraodinary journey that this time in prison is relatively minor," Dr. Fry wrote.
"Many of the women in here feel that prison is the worst thing that has every happened to them," Dr. Fry wrote. For me this is not so. This has been difficult but I have been through much worse.
"I have taken this opportunity to strengthen myself, mind, body, and spirit, and I will emerge from this time victorious," she said.
Dr. Fry's husband, Dale Schaefer, is also still incarcerated under his five-year federal prison sentence.