Oregon: Two Portland Dispensaries Face Off In Fight For Prime Location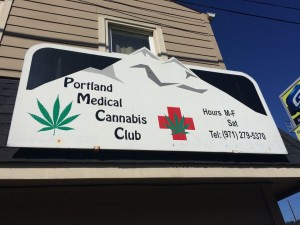 By Steve Elliott
Hemp News
One Portland medical marijuana dispensary filed a $400,000 lawsuit this month against the owners of another dispensary, claiming the second business lied on a state registration application to steal the first business's patients.
Two medical marijuana dispensaries cannot be within 1,000 feet of each other, under Oregon law, and that's why the Portland Medical Cannabis Club is a plaintiff in the lawsuit, reports Noelle Crombie at The Oregonian.
The Cannabis Club is just steps away from its soon-to-open competitor, 420 Dank. When 420 Dank opens, possibly as early as next month, the dispensaries will be in the 4600 and 4700 block of Southwest Beaver-Hillsdale Highway in Portland.
"They aren't trying to take anyone's business," claimed 420 Dank's lawyer, Brad Andersen. "It just happens to be in a prime location."
A little more than a year ago, the state began requiring all medical marijuana dispensaries to register, starting at 8:30 a.m. on March 3, 2014, via a state website. Dispensary owners flooded the site, and that's when this dispute began.
According to the lawsuit from Cannabis Club, the owners of 420 Dank managed to submit their application at 8:33 a.m. Cannabis Club wasn't able to get its application submitted through the website until 8:36 a.m. The state approves applications on a first-come, first-served basis, so 420 Dank won the permit, according to the lawsuit.
That left Cannabis Club without a permit, and without permission to operate.
Cannabis Club claims in the lawsuit that 420 Dank broke state rules that require at least one of its founders to reside in Oregon. The suit claims the 420 Dank founder Matthew Lucero was a Colorado resident on registration day, and that he'd signed a "sham lease" on a rental and acquired an Oregon driver's license, all to falsely claim he was an Oregon resident.
"Defendants sought to ... undermine Plaintiff's business and poach Plantiff's clients," states the lawsuit, filed in Multnomah County District Court.
Andersen, 420 Dank's attorney, claims his clients did everything by the book, and that Lucero was an Oregon resident when he submitted the application. "He moved up here to start up this new business -- now people do that all the time to start a business," Andersen claimed. "He went through the right hoops."
Andersen added that 420 Dank beat Cannabis Club fairly in the registration process, and that Cannabis Club's lawsuit is crying of "split milk." He said he believes Cannabis Club has received a cease-and-desist order from the state, because it isn't registered.
A spokesman for the Oregon Health Authority, which regulates the states approved medical marijuana dispensaries, said privacy rules prevent him from sharing any information about whether Cannabis Club is currently legally operating, said Jonathan Modie.
Neighbors of the businesses said the owners of 420 Dank told them they plan to open on April 20.
Photo: Aimee Green/The Oregonian