North Carolina: Medical Marijuana Advocate Found Guilty; Headed To Prison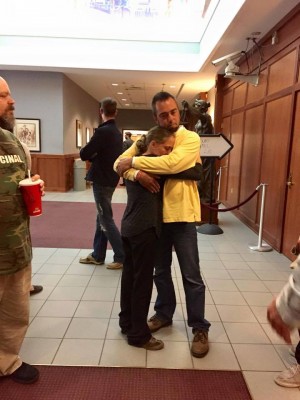 By Steve Elliott
Hemp News
A North Carolina jury took less than an hour on Thursday to find a man who openly ran a medical marijuana operation guilty of drug trafficking.
The jury of six men and six women found Todd Stimson, 44, guilty of two counts of marijuana trafficking in an emotional conclusion to the trial in Henderson County Superior Court, reports Sabian Warren at the Citizen-Times.
Judge Mark Powell sentenced a visibly shaken Stimson to a minimum of 25 months in federal prison, and a maximum of 39 months. Stimson was also ordered to pay a $5,000 fine.
Addressing the court in a final plea, his voice shaking as his daughter cried, Stimson said, "I'm sorry that I've taken up your time ... It's not meant to be this way," reports Emily Weaver at the Hendersonville Times-News.
"What I did this time was to stand out and try to be accepted by society and ... work with the state along with the police department, along with the Department of Revenue and everybody (to show the state) that we can work together and get along," Stimson said. "And that's all I set out to do.
"Even though the situation is bad for me, I've done exactly what I wanted to do to raise awareness to ... what happens to people in this situation," Stimson said.
"It takes a person to actually stand out to make a change," said Stimson, who operated Blue Ridge Medical Cannabis Research Corporation out of his Fletcher home. "They're at war against people like me. There are people out here who don't want war."
Dozens of cannabis advocates and supporters of Stimson were in the courtroom, and others stood outside holding signs calling for Stimson's release.
Family members left the courthouse in tears after the verdict was read, declining to speak with the media.
Friend of the family Shayla Rose said she was disgusted with the ruling. "Todd is getting put in a violent cage because he broke some alleged authority's rule," she said. "It's really heartbreaking. Lots of peaceful people are being put in cages."
District Attorney Greg Newman claimed after the trial that the outcome is "a just verdict."
"How very flagrant and open about breaking the law," Newman tut-tutted. "Everybody has to follow the rules. Nobody is above the law."
Stimson had said charges against him were unwarranted because he was running a research operation focusing on the medicinal benefits of cannabis.
He was charged in July 2013 after Fletcher police raided his home, seizing dozens of marijuana plants.
Jurors had the option of finding Stimson guilty only of felony marijuana possession, but chose the more serious charge of trafficking instead. Prosecutor Doug Mundy said the 13.5 pounds of marijuana taken from Stimson's home was weighed at the FBI lab; any weight over 10 pounds makes the offense a trafficking case with a mandatory minimum of 25 months in prison.
Photo of Todd Stimson: Skylar Elizabeth/Facebook