Indonesia: Police Burn 3 Tons Of Marijuana, Accidentally Get Entire Town High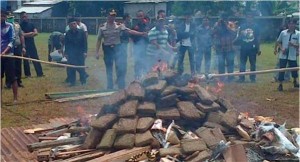 By Steve Elliott
Hemp News
Police in Palmerah, Indonesia, a sub-district of West Jakarta, accidentally got an entire town stoned when they burned a 3.3-ton pile of marijuana.
A number of residents and journalists in the Indonesian neighborhood reported feeling disoriented, dizzy and stoned when heavy plumes of smoke wafted through their streets, reports Dangerous Minds.
Some of the police wore masks as they first set the cannabis ablaze, but neglected to mention to onlookers and residents in the surrounding community that the smoke could affect them, too.
Photo: Malesbanget.com