Colorado: Lawmakers Don't Want To Refund Marijuana Taxes To The Public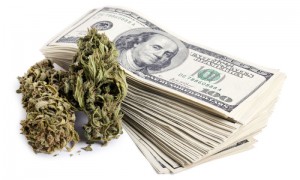 By Steve Elliott
Hemp News
One year after Colorado became the first state to allow recreational marijuana, millions of tax dollars are rolling in, just as predicted. The funds were supposed to be dedicated to school construction, along with regulating cannabis sales, but a legal complication may force the state to refund that money to the public -- and lawmakers don't want that to happen.
A strict anti-spending provision in the Colorado Constitution -- a voter-approved measure called the Taxpayer's Bill of Rights -- may require the state to refund nearly $60 million in marijuana taxes, reports Jack Healy at The New York Times.
Legislators are trying to figure out a way to keep the money, and they're hoping Colorado voters will let them. Republicans and Democrats in the Colorado Legislature don't agree very often when it comes to taxes, but it seems both parties agree they want to keep the cash, and legislators are working on a bill which would ask voters' permission to not give the money back.
"Despite our anti-tax feelings in the state, there's an exception being made when it comes to marijuana," said Michael Elliott, executive director of the Marijuana Industry Group, a Denver-based trade organization that isn't taking a stand on the refund issue. "The industry is making a huge economic impact."
Some anti-tax groups said they'd fight any effort to avoid giving the refund back to the public, even it amounts to only $11 or less per person. "It should go back to the taxpayers," said Gregory Golyansky, president of the Colorado Union of Taxpayers.
"When government tries to keep the money that rightly belongs to the taxpayers of Colorado, it is an enormous issue," Golyansky said. "There should be a tax refund."
After Colorado voters approved recreational marijuana legalization, they also approved a measure putting hefty taxes on cannabis, as well as a 10 percent sales tax. Retail customers pay 30 percent or more in taxes at the cash register.
Voters allocated $40 million of cannabis revenue to school construction and repairs; other revenue pays the marijuana inspectors, enforcement agents and other assorted bureaucrats who nominally run the offices that regulate weed.
While the cannabis tax revenue is falling short of the $70 million the state thought it might collect, Colorado is now in the awkward position of having to give back marijuana money, because it collected more than it had anticipated in taxes last year across the board, including through other sections of the state's healthy economy.
"It's not that the pot tax came in too high," said Democratic state Sen. Pat Steadman. "It's that every other revenue came in high."
The complex Taxpayer's Bill of Rights, first approved by Colorado voters in 2992, requires that when the state collects more money than it had anticipated, it has to give some back to taxpayers. Refunding nearly $60 million in marijuana money would mean that money didn't go to school construction -- which had been depending upon cannabis taxes -- and force the state to pay from its general fund.
Steadman said the law is unclear on who, exactly, should be paid back. The marijuana customers? The growers and wholesale businesses? The public? He is now working on a bill -- expected to get bipartisan support -- that would ask voters whether the state can keep the money.
Photo: Associations Now