California: Gubernatorial Candidate Gavin Newsom Supports Marijuana Legalization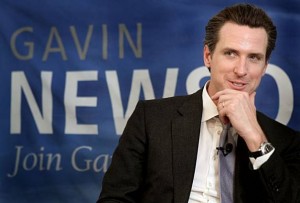 By Steve Elliott
Hemp News
California Lieutenant Governor Gavin Newsom is preparing for a 2016 gubernatorial campaign, and if an expected ballot measure to legalize, regulate and tax marijuana meets his criteria, he will endorse it and effectively become the public face of the campaign, betting his political future on the popularity of cannabis in the Golden State.
Newsom, a Democrat, is the highest-ranking official in California to support recreational legalization, reports Seema Mehta at The Los Angeles Times.
Although legalization will almost certainly be popular with liberal and young voters, some political analysts believe his support for legalization could present a challenge.
"He could motivate large numbers of young people who aren't regular voters to turn out for him," said director Dan Schnur, of the University of Southern California's Jesse M. Unruh Institute of Politics. "But taking a leadership role on this could make older swing voters nervous, even if they agree with him on the issue. It's a potentially risky play."
Voters in California legalized medical marijuana in 1996 but in 2010 voted against recreational use, 53.5 percent to 46.5 percent. Since then, polling has shown that public support for legalizing pot has grown, reaching 53 percent in a March survey by the Public Policy Institute of California — a record high in that organization's surveys.
Democrats, whites, blacks, and people 18-34 showed the greatest support for legalization, with more than 60 percent in favor. Older residents were more skeptical, and the state's two fastest-growing voter groups, Latinos and Asians, strongly opposed it.
Even Democratic politicians aren't united in their support. Both U.S. Senator Diane Feinstein and Gov. Jerry "Moonbeam" Brown oppose legalization.
"How many people can get stoned and still have a great state or a great nation? The world's pretty dangerous, very competitive," Brown said on "Meet the Press" last year. "I think we need to stay alert, if not 24 hours a day, more than some of the potheads might be able to put together."
Newsom, meanwhile casts legalization in the context of criminal and social justice, pointing out that minority youths are more likely than others to be criminally penalized for cannabis. He insists he has never tried marijuana, and that he hates the smell.
"This is not ... a flippant debate about stoners and potheads. This is serious stuff, and I don't want to be part of the status quo," Newsom said in an interview. "I'm happy to take that risk because I think people will be benefited in a profound way if we do this right…. People like me, we come and go, we're a dime a dozen. This is a principle that will transcend [us]."
"I happen to believe that marijuana is a helluva lot more benign than heroin," Newsom said at a luncheon in Marin County last year, where he pledged to back whichever initiative makes it onto the 2016 ballot, reports KQED.
"I don't like drug abuse, or drug use. That said, I dislike the 'war on drugs' more," Newsom said. "It is a war on people of color, it is a war on poor people, and it is an outrage."
Newsom chairs a commission of law enforcement, medical experts and others that was created by the ACLU of Northern California to study the marijuana issue. The group recently released a report on how cannabis should be taxed, how to assess impairment among drivers, and how pot could be advertised and sold without increasing its use by teenagers.
"I want to see it done right, and that's why I'm telling all these groups I want to be supportive of a ballot initiative, but it has to be the right one," Newsom said. "We have to be accountable and responsible for making sure that we address the intended and unintended consequences of any effort to legalize, tax and regulate marijuana for adults."
"It's not good enough to put something on the ballot and begin after the fact to ask those questions," Newsom said. "Polls agree something needs to change. It is time we become more mature on this topic."
Photo of Gavin Newsom: 420 Magazine