U.S.: Dr. Oz Expands Conversation On World Health Day To Include Medical Marijuana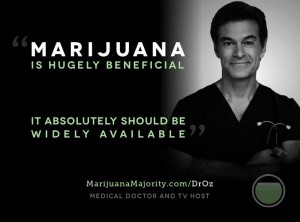 The conversation is changing! The Dr. Mehmet Oz show observed World Health Day with a moving public service announcement and call to action on medical marijuana.
"This year, I want to make sure that we address and understand three paramount issues for which we can all make a difference: marijuana as medicine, transgender awareness, and the right to end pain and suffering," Dr. Oz posted on Facebook. "Each of you have the power to create true change."
Check out the PSA at the link below, and be sure to share far and wide!
Dr. Oz PSA On Medical Marijuana For World Health Day
Graphic: Dabbado