Louisiana: Residents' Tolerant Views On Marijuana Not Reflected By Harsh State Laws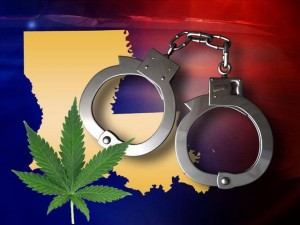 By Steve Elliott
Hemp News
Louisiana residents have a much more relaxed and tolerant approach toward marijuana than is reflected by their state's harsh laws, according to a statewide survey conducted by Louisiana State University this winter.
The university asked about three different marijuana polices, reports Julia O'Donoghue at The Times-Picayune.
First of all, the survey found that a majority of Louisianans oppose legal marijuana for personal use. Fifty-two percent of state residents still oppose legalizing cannabis for recreational use, but the gap between those who don't want to legalize and those who support it -- at 45 percent -- is shrinking.
In 2013, 56 percent said they opposed legalization, and 42 percent said they supported it, a gap of 14 points. Now, that gap has shrunk to just a seven-point difference.
Young adults ages 18-29 in Louisiana support legal marijuana, with 68 percent supporting and 32 percent opposed.
One state lawmaker has filed legislation to put possession, distribution and dispensing of cannabis on the Louisiana ballot on November 8, 2016. Rep. Dalton Honore (D-Baton Rouge) said voters should get to decide whether pot becomes legal.
Secondly, the survey found that most Louisiana residents support medical marijuana. Sixty percent support medicinal pot, but for some reason that number has shrunk since last year, when 79 percent said they supported it.
People of almost all age groups support medicinal cannabis, with only those 65 and older opposing it, according to the survey.
At least two legislators, Rep. Honore and state Sen. Fred Mills, are going to push for medical marijuana legalization during the spring session of the Legislature, which starts next week. Gov. Bobby Jindal has said he would support medical marijuana, as long as it was "tightly regulated."
Thirdly, the survey found that most Louisiana residents don't agree with jailing people for small amounts of pot. Two-thirds -- 67 percent -- said they don't think people should be put behind bars for small amounts of weed, as they are now under state law.
LSU found that Louisiana law enforcement spends about $7.5 million a year on jailing people for small amounts of marijuana. The number of people who said nobody should be put in jail for small amounts of pot unsurprisingly went up -- to 79 percent -- when a pollster told them about the price tag for locking people up.
Lawmakers are also considering cannabis "decriminalization" bills this spring, which would impose fines, instead of jail time, for simple possession.
LSU conducted the poll of 980 state residents between January 12 and February 13. The margin of error is 3.1 percentage points in either direction. The survey is performed every year by the Reilly Center for Media and Public Affairs as well as the Public Policy Research Lab.
To read the entire LSU survey on marijuana, click here.
Graphic: The Joint Blog