Oregon: Marijuana Campaign Hires Lobbyist To Pass Expungement Law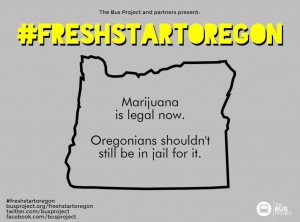 "We are going to put our political muscle behind this to make sure it gets passed."
New Approach Oregon has hired a lobbyist to help pass bills in the Oregon Legislature that would reduce marijuana offenders' jail sentences and clear marijuana-related offenses from criminal records.
The group behind Oregon's law to legalize marijuana is also teaming up with the Bus Project to organize volunteers, host phone banks and win endorsements for House Bill 3372 and Senate Bill 364. Both bills await hearings in the House Judiciary Committee. SB 364 has already passed the Senate.
"We built a powerful organization to legalize marijuana," said Anthony Johnson, executive director of New Approach Oregon, "and we plan to use it to make sure these bills are passed. Let's stop ruining lives by treating marijuana as a crime and start saving money by getting people out of jail and giving them a fresh start."
Click here to sign up to help the new #FreshStartOregon campaign
Oregon has one of the highest marijuana possession arrests in the country, according to The Oregonian, with about one out of every 14 arrests for marijuana. These arrests also racially biased. Even though they use marijuana at the same rate as white people, African Americans in Oregon are more than twice as likely to be arrested for it, according to research by the ACLU.
Measure 91, which legalized marijuana in Oregon, passed in November by a 12-point margin. Rulemaking for the Oregon's new marijuana law is currently underway. Marijuana possession and home cultivation by adults 21 and older becomes legal on July 1. The Oregon Liquor Control Commission will begin accepting marijuana business applications early next year.
Prosecutors in counties like Multnomah, which includes Portland, have stopped enforcing obsolete marijuana laws.