Oregon: Kaya Farms Marijuana Grow Operation To Supply Kaya Shack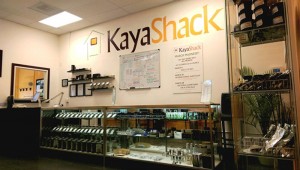 Kaya Holdings, Inc. on Thursday announced that it has commenced with its own medical marijuana grow operations for the cultivation and harvesting of legal marijuana. The grow operation places Kaya Holdings as the first U.S. publicly traded company to own a majority interest in a vertically integrated legal marijuana enterprise in the United States, according to the company.
"This grow begins our path to complete vertical integration where our Kaya Shack stores exclusively sell company produced products," said CEO Craig Frank. "The economics of the industry and our quest for excellence in quality and stability in supply made establishment of this grow an immediate operation imperative. We are proud to have reached it so quickly and with so high a degree of expertise."
"This weekend Kaya employees and contractors will harvest the final round of our first medical marijuana crop rotations which have yielded the company nearly 25 pounds of independently tested-and-certified Oregon connoisseur-grade medical marijuana since January 1, 2015," Frank said. "With planned expansion we are planning to ramp up to much higher production levels."
The grow operation will rotate varieties within the perpetual harvest room to include more than 30 strains of marijuana, according to Kaya Holdings. The company expects to expand the grow operations throughout 2015, enlarging capacity and increasing the number of varieties grown.
About Kaya Holdings, Inc. (KAYS)
KAYS (OTCQB: KAYS) through its subsidiary, Marijuana Holdings Americas, Inc. owns and operates the Kaya Shack, the first legal marijuana dispensary operated by a U.S. publicly traded company – Kaya Shack™. KAYS creates and establishes its own brands that produce, distribute and/or sell premium cannabis products, including flower, concentrates, and cannabis-infused baked goods and candies.