Arizona Supreme Court Says State May Not Deny Medical Marijuana To Felons On Probation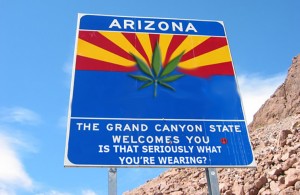 By Steve Elliott
Hemp News
The Arizona Supreme Court on Tuesday issued two rulings barring courts and prosecutors from denying medical marijuana use as a term of probation, if the convicted felons in question have valid medicinal cannabis authorizations.
In the first case, a Cochise County man convicted of possession of marijuana with intent to sell was forbidden from using medical marijuana by a probation officer after his release from prison, reports Michael Kiefer at The Arizona Republic. In the second, a woman pleading guilty to DUI in Yavapai County refused to abstain from using medicinal cannabis as a term of her probation, prompting the prosecution to withdraw the plea agreement. Both had valid Arizona medical marijuana cards.
The Arizona Supreme Court ruled that both probationers had the right to use marijuana for their medical conditions under state law, and that prosecutors and courts couldn't take that away from them as a term of probation.
"The Supreme Court is recognizing what the people decided when they passed the initiative: You can use your medicine," said David Euchner, assistant Pima County public defender. Euchner argued in both cases as a member of Arizona Attorneys for Criminal Justice.
The court ruled, however, that the Yavapai County Attorney's Office had the right to withdraw from the offered plea deal because it had not yet been accepted by a judge.
In 2010, Keenan Reed-Kaliher pleaded guilty to possession of marijuana for sale in Cochise County, and was imprisoned for a year and a half. The Arizona Medical Marijuana Act was passed later that year, and went into effect in 2011, so it didn't affect his plea agreement.
The terms of his probation required that he "obey all laws," according to the Arizona Supreme Court decision.
When he was released on probation, Reed-Kaliher's probation officer added the stipulation that he not possess or use marijuana. Reed-Kaliher appealed. A Cochise County Superior Court judge did not agree with his argument, but the Arizona Court of Appeals did.
Tuesday's Arizona Supreme Court ruling affirmed that Court of Appeals ruling.
"[I]f the state extends a plea offer that includes probation, it cannot condition the plea on acceptance of a probationary term that would prohibit a qualified patient from using medical marijuana ..." the ruling reads.
Heartless, control-freak prosecutors, predictably, don't like allowing probationers to use marijuana, even if they need it medically.
"It's another example of the problems with initiative drafting and unintended consequences," Maricopa County Attorney Bill Montgomery said in an e-mail to The Arizona Republic. "There was no discussion at the time of the election regarding the impact to case resolutions and the ability for parties to negotiate plea agreements."
Montgomery rabidly opposes cannabis use. On March 23, he upset some onlookers during a debate in Tempe over the use of recreational marijuana when he described a veteran who admitted to using cannabis medicinally as an "enemy."
But Marc Victor, the defense attorney Montgomery faced off against, said Tuesday's court ruling restores justice, "because the initiative specifically said your right to use medical marijuana can't be taken away."
The second case covered a slightly different angle; Jennifer Lee Ferrell was arrest in 2012, and charged with DUI. Her plea agreement with the Yavapai County Attorney's Office required her to avoid cannabis as a condition of probation.
The high court said the county couldn't do that.
"My goal -- and the goal of the system -- is to set convicted felons up to succeed, to find employment and to turn their lives around," whined Yavapai County Attorney Sheila Polk, who opposes any use of cannabis. "Marijuana is not part of that equation," she said, failing to explain how cannabis could interfere with success, employment and a happy life if she'd just get the hell out of the way and let patients use the medicine their doctors recommend.
Polk was so mad about the decision, she threatened to appeal it to the U.S. Supreme Court.