Kansas: Attorney General Asks State Supreme Court To Block Wichita Marijuana Decrim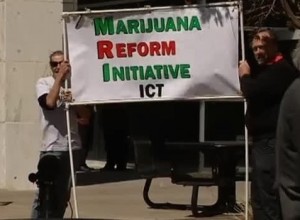 By Steve Elliott
Hemp News
Perfectly embodying the definition of a sore loser, Kansas Attorney General Derek Schmidt is asking the state Supreme Court to strike down Tuesday's ballot initiative which Wichita voters passed to reduce penalties for marijuana possession.
"There are no facts in dispute -- only the legal question of whether the City of Wichita acted outside its authority by purporting to adopt this ordinance in conflict with state law," Schmidt claimed in a Thursday news release accompanying his filing, reports Dion Lefler at The Wichita Eagle.
"A quick, authoritative and final resolution in the Supreme Court will provide the clarity to guide everyone involved," Schmidt said.
A lawyer for the cannabis activists who forced Tuesday's successful decrim vote said it's kind of funny that Schmidt moved on the case only after his side lost.
"I guess if the wrong people win an election in Wichita, Kansas, the attorney general is going to want a do-over," said Scott Poor, the lawyer representing the Wichita Marijuana Reform Initiative group.
The decrim initiative was resoundingly approved by voters, 54 percent to 46 percent. It seeks to reduce the penalty for first-time marijuana possession for adults over 21 to a $50 fine. Violations would be considered infractions, meaning they wouldn't have to be disclosed on most job or scholarship applications.
Kansas law defines marijuana possession as a Class A misdemeanor, legally equivalent with violent offenses such as assaulting a police officer. The maximum penalty is a year in prison and a $2,500 fine.
Atty. Gen. Schmidt cited several reasons in his Tuesday court filing why he thinks the initiative should be nixed by the court before it ever takes effect. "The Kansas Constitution prohibits cities from adopting ordinances that conflict with uniform state law," he claimed.
Schmidt claimed the initiative gives "unlawful directions" to city police and municipal judges, and besides, he claims, it wasn't properly filed because the city clerk didn't have a copy, and the wording didn't include "be it ordained" as required by state law.
Poor disputed the attorney general's claim that the initiative conflicts with state law. "We passed a city ordinance," he said. "We didn't change state law in the city of Wichita. We changed the ordinance as enforced by Wichita."
"Our ordinance only related to city cops, city prosecutors and city couts," Poor said, adding that the district attorney -- a state employee -- could still file marijuana charges in state courts.
Poor said Schmidt's procedural challenges "are not a particularly relevant argument after the election," because the attorney general had plenty of time to challenge that earlier in the process. "It's just interesting they only decide to raise these issues after they figure out they don't like the outcome," Poor said.
Photo: KWCH