Maine: Medical Marijuana Inspectors Hired By State For The First Time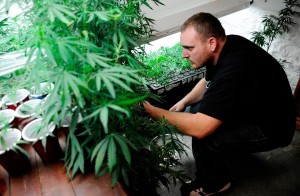 By Steve Elliott
Hemp News
The state of Maine has, for the first time, hired an outside group to inspect medical marijuana growing operations, a move being heavily criticized by patient advocates who say the process is poorly planned. The inspections have already begun, with many caregivers being quite surprised when they happen?
The Maine Department of Human Services last month signed a one-year contract with the Maine Sheriffs' Association, of all groups, agreeing to pay them $167,000 to inspect cannabis growing operations across the state, reports Michael Shepherd at CentralMaine.com.
"The department has contracted with the sheriffs association to provide follow-up investigations on complaints that are medical marijuana related," DHHS spokesman David Sorensen said Friday, reports Nok-Noi Ricker at the Bangor Daily News. "They are not current deputies; they are retired law enforcement personnel," he claimed. "They are essentially investigators. They are not acting as law enforcement agents."
The inspections are primarily for caregivers, said DHHS spokesman David Sorenson. Caregivers, under Maine's medical marijuana law, are allowed to grow cannabis for up to five patients who have doctors' authorizations to use the herb medicinally.
There are more than 1,700 caregivers in Maine, and many grow marijuana at their homes. Unlike for the state's eight licensed dispensaries, medical marijuana program rules don't outline an inspection process.
Many caregivers haven't even been notified of the change. Advocate Paul McCarrier, president of Legalize Maine, questioned the state's authority to make the change without going through a rule-making process.
"I basically want to make sure that everybody feels safe and everybody feels that this is going to be a professional relationship between a regulatory agency and a small business," McCarrier said.
The sheriff's association has hired four former police officers to handle the marijuana inspections, according to Kennebec County Sheriff Randall Liberty, who negotiated the contract with the state. Liberty said the inspectors will be working 60 hours per month, and will be plain-clothed, unarmed and ask for voluntary consent to inspect operations.
Liberty called the inspection process an "ever-evolving" program, saying the first five inspections are "going to be much different from the 50th one we do and we're learning as we go, also."
"I think they are doing very well now," Sheriff Liberty claimed. "These are very tenured investigators -- very smart guys -- and they'll pick (it) up quickly."
Caregivers in Maine can cultivate no more than six plants per patient and assist no more than five patients at a time. Rules ban most pesticide use.
According to the contract, complaints received will be ranked by DHHS; if they are deemed to require further
action, they'll be referred to the investigators, who must begin with 48 hours and finish reviews in two weeks. They are required to send weekly "progress reports" to the department, which would make decisions on how to resolve complaints.
King Bishop, a caregiver in Morrill, Maine, had no idea the inspections were even happening until inspectors Matthew Clark and Mark Desjardin showed up at his door last month.
Bishop said the inspectors were polite and asked legitimate questions, but they didn't have IDs other than business cards. "I didn't know what my rights were," he said. "I didn't know what powers DHHS had given them."
Photo: Bangor Daily News