U.S.: MBank To Close All Marijuana Business Accounts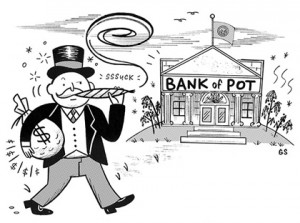 By Steve Elliott
Hemp News
Was it too good to last? MBank, a small community bank based in Gresham, Oregon, that quickly became one of the main banks serving the marijuana industry, has announced that it will close all of its accounts with cannabis companies within the next two months.
The cost and time spent on compliance with federal banking rules is just too much for the company to handle, according Jef Baker, CEO and president of MBank, reports Tony C. Dreibus at the Marijuana Business Daily.
The bank currently has between 70 and 75 accounts with marijuana businesses, according to Baker. Most of those accounts are in Oregon, with a few in Washington state.
"We just do not have the resources to manage the compliance necessary" to continue to service the cannabis industry, Baker said. "This is not what we want to do, this is what we have to do," he said. "We got into this business to serve an underserved group and I wish we could still do that."
The banks customers will have "a couple months" before their accounts are closed, Baker said on Friday afternoon.
Graphic: Greg Stump/The Stranger