U.S.: Just In Time For 4/20, G FarmaLabs Launches Liquid Gold Extracts NUG RUN Tanks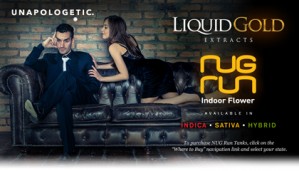 Cannabis Company Debuts Cannabis Vape Cartridge Using Co2 Extracted Oil from Indoor Marijuana Flowers
G FarmaLabs, a producer/processor of medical and adult use marijuana-based products, on Monday announced the launch of Liquid Gold Extracts NUG RUN Tanks, which contain what the company calls "the purest form of cannabis oil currently available within the medical/adult use marketplaces."
The brand has officially timed the product's debut in observance of 4/20 to be made available on store shelves of all participating dispensaries carrying G FarmaLabs products.
The company's NUG RUN oil is produced using a 100 percent blend of indoor marijuana flowers, thus breaking the status quo of traditional oil extraction processes. While most oils are created using the extracted byproducts of cannabis plants, NUG RUN uses the richest part of the plant, which carries the greatest amount of trichomes and terpenes. These are released into the oil during refinement and purification, resulting in much higher potency and longer lasting effect.
"We're super excited about the launch of NUG RUN as a brand new flagship offering for our Liquid Gold Extracts line," said Ata Gonzalez, CEO, G FarmaLabs Limited. "When we began development on the product, we were determined to set the bar higher than any other cannabis company currently operating in the market, and we're confident that our NUG Run extraction process, which uses the actual flowers of the cannabis plant, will provide patients with an unprecedented option in terms of medical and adult lifestyle quality products."
G FarmaLabs' Liquid Gold Extracts oils cater to consumers who favor vaporization as a preferred ingestion method for using cannabis as an alternative source. Cannabis vaporizers are specially designed to let users inhale active cannabinoids while avoiding the harmful toxins associated with traditional paper-based ingestion methods, which can be irritating to users' throats and lungs.
Liquid Gold Extracts NUG Run Tanks are available to consumers in the form of three different options categorized by "Indica," "Sativa," and "Hybrid." Each cartridge comes prefilled with .5g of cannabis oil in a 510 Threaded Tank manufactured to fit most vape pen batteries on the market.
For more information, visit www.gfarmalabs.com .