U.S.: New Poll Finds 53% of Americans Support Legalizing Marijuana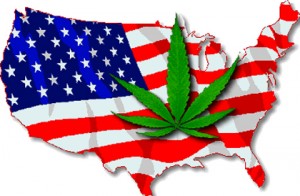 By Steve Elliott
Hemp News
A new poll from Pew Research Center finds that 53 percent of Americans support the legalization of marijuana, with 44 percent opposed. As recently as 2006, just 32 percent supported legalization, while nearly twice as many -- 60 percent -- were opposed, according to Pew.
Crucially, the poll finds that people are much more likely to change their minds from opposing legalization to supporting it than vice versa. Among the general public, 21 percent of people support legalization now, but once opposed it. In contrast, just 7 percent of people used to support legalization but now oppose it.
Millennials (currently 18-34) lead the change, with 68 percent in favor. But across all generations, with the exception of the Silent Generation (ages 70-87), support for legal weed has risen sharply over the past decade.
"The more that people learn about marijuana and look at the benefits of legalization, the more likely they are to support reform," Tom Angell of Marijuana Majority told Hemp News on Tuesday. "Our opponents sure do have a lot to say about what they see as the benefits of continuing prohibition, but voters don't want to hear it."
The most frequently mentioned reasons for supporting marijuana legalization are its medical benefits (41 percent) and the belief that cannabis is no worse than other drugs (36 percent), with many specifically mentioning they think pot is no more dangerous than alcohol or tobacco.
Majorities of blacks (58 percent) and whites (55 percent) favor legalization, compared with just 40 percent of Hispanics. Men, with 57 percent in favor, are more likely to support legalization than women, at 49 percent.
Nearly six in 10 Democrats (59 percent) favor legalizing cannabis, as do 58 percent of independents. Meanwhile, just 39 percent of Republicans have gotten onboard.
A majority of Americans -- 59 percent -- say that the federal government should not enforce marijuana prohibition in states that allow cannabis use; 37 percent say federal law should be enforced. These views are unchanged since the question was first asked two years ago.
Overall, 49 percent say they've tried pot, while 51 percent say they've never done so. In 2003, just 38 percent said they'd tried marijuana with 61 percent saying no. Men (56 percent) are more likely than women (41 percent) say say they've tried marijuana.
About one in four of those who have tried pot (12 percent of the public overall) say they've used it in the past year. About half of whites (52 percent) and blacks (50 percent) say they've tried cannabis. Among Hispanics, just 36 percent say they've tried maconha, while 63 percent say they have not.
A majority of those who say marijuana should be legal say they've tried it before (65 percent); 34 percent of those who support legalization say they've never tried weed. Tellingly, among those who say marijuana should be illegal, 29 percent have tried it before, while 71 percent have not.
"Legalization isn't just some liberal trend on the coasts," Angell told Hemp News. "It's a mainstream issue with majority voter support in crucial states that national politicians need to win.
"Presidential candidates would do well to start courting the cannabis constituency instead of running away from us," Angell said.