U.S.: WeedWatch Parody of Apple Watch Advocates 'Time For A Change'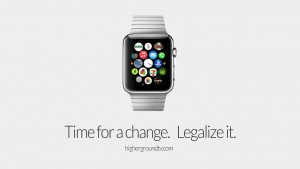 Coinciding with the release of the Apple Watch on April 20, a Seattle-based multimedia company, Higher Ground, has created a parody ad to bring attention to marijuana legalization. The ad, "WeedWatch," features a photo of the iWatch with the simple text, "Time for a Change: Legalize It." A variety of marijuana-related icons and apps are featured on the device's face.
One of the most innovative features of Apple's Watch is the ability for users to customize the face of the device, and add additional information. In Higher Ground's parody, they have taken the liberty to do just that!
The watch face is full of humorous and advocacy-related apps including NORML (National Organization for the Reform of Marijuana Laws), SXSW, Leafly (a Yelp-like mobile app for marijuana), 7-11, Cannabis News Network, and Doritos. The time? 4:20.
"The Apple Watch is a revolutionary product, and the legalization of marijuana in states across the country is also a revolutionary movement," notes Higher Ground Editor-in-Chief Michael A. Stusser. "The message of our parody is as simple as the solution to the War on Drugs: Legalize It. It's time to end Prohibition, and legalize, regulate and tax cannabis at the federal level."
Based out of Seattle, where recreational marijuana was legalized in 2012, Higher Ground is attempting to "Elevate the Dialogue" and broaden the movement nationally. While legal in Washington, Colorado, Alaska and Oregon, the use, sale or distribution of cannabis is still a felony at the federal level, and over 600,000 Americans are arrested every year for marijuana-related offenses.
The parody ad is being strategically placed in weekly newspapers (and online) in states where marijuana initiatives are being proposed, including Ohio, California, Nevada, Maine, Michigan, Massachusetts and Arizona. It will also run as the centerfold in the upcoming Marijuana Green Pages.
The launch of the Apple Watch continues to garner significant media coverage, as it is the first new product device from Apple since CEO Tim Cook took over the company. PreOrders for the iWatch began on April 10, selling over a million units, and will begin shipping on April 24.
Using guerilla-style marketing, Higher Ground's WeedWatch campaign will appear on posters, leaflets and mobile billboards adjacent to Apple stores nationwide.
About Higher Ground
Higher Ground produces what it calls "the world's first satirical news program about the legalization movement," along with a newspaper column and website. A multi-media company, Higher Ground creates highly-produced video assets including a flagship program (a mix between The Daily Show and CNN, just without that annoying Wolf Blitzer fellow), a syndicated column on the legalization movement, a comprehensive and entertaining news website, events (Cooking with Cannabis!), along with viral social-media parodies.