U.S.: Dr. Sanjay Gupta Reports - Weed 3: The Marijuana Revolution On April 19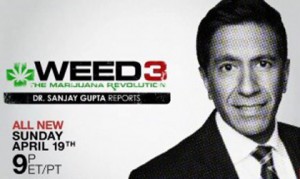 CNN's Dr. Sanjay Gupta's two-year "Weed" investigation exposed the new faces and incredible potentials of medical marijuana to the American public, and also highlighted the growing frustration, and anger around gaining access to medical marijuana.
In the third installment of his award winning series, WEED: The Marijuana Revolution – Gupta reports on a watershed moment in medical marijuana research that could change everything we know about the plant and it's effects.
At last count, nearly half of the United States has legalized medical marijuana, enabling millions of Americans to treat everything from pain to glaucoma to epilepsy to cancer with a hit of medicinal weed. Yet science has not proven conclusively whether it's safe and effective.
With marijuana still illegal federally, the roadblocks to research have been impenetrable - until now. Scientists around the U.S. are finally breaking down the walls put up by the government. Gupta gains exclusive access to their history-making research and their patients, as they try to unravel the mystery of marijuana.
WEED: The Marijuana Revolution will air on CNN Sunday, April 19th at 9 pm ET/PT.
Immediately following WEED 3,, the CNN Original Series High Profits will premiere at 10 p.m. ET/PT. High Profits follows two business-minded visionaries with a plan to franchise marijuana. The eight-part series grants viewers exclusive access to a couple poised to be the first ever "moguls of marijuana."