Arizona: Ballot Initiative To Legalize, Regulate Marijuana Like Alcohol Filed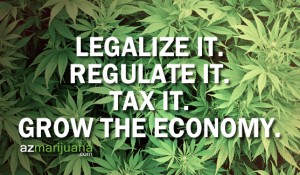 A statewide ballot initiative to legalize, regulate and tax marijuana like alcohol in Arizona will be filed on Friday with the Office of the Arizona Secretary of State.
Representatives of a unified coalition of organizations, activists, and marijuana businesses that are supporting the measure will hold a media availability at 1 p.m. MST in front of the Executive Tower of the Arizona State Capitol, prior to submitting the initiative to the Elections Division on the 7th floor.
"It was a long and deliberative drafting process involving a diverse group of stakeholders," said Carlos Alfaro, Arizona political director for the Marijuana Policy Project (MPP). "There were some bumps in the road, but in the end everyone came together to produce the best possible law for Arizona.
"We are united in this effort to end marijuana prohibition and replace it with a system in which marijuana is regulated and taxed similarly to alcohol," Alfaro said.
In summary, the Regulation and Taxation of Marijuana Act would:
• Allow adults 21 years of age and older to possess and privately consume and grow limited amounts of marijuana (it will remain illegal to consume marijuana in public);
• Create a system in which licensed businesses can produce and sell marijuana to adults and establish a Department of Marijuana Licenses and Control to regulate the cultivation, manufacturing, testing, transportation, and sale of marijuana;
• Provide local governments with the authority to regulate and prohibit marijuana businesses; and
• Establish a 15 percent tax on adult marijuana sales in addition to standard sales taxes.
Marijuana tax revenue will be used to fund the implementation and enforcement of regulations, and any additional revenue will be allocated to the Department of Education for construction, maintenance, operating costs, and full-day kindergarten programs and to the Department of Health Services for public health efforts.
The full text of the initiative is available on the campaign's website at http://www.RegulateMarijuanaInArizona.org.
"Marijuana should be produced and sold by licensed businesses in a regulated market, not violent criminals in the underground market," said J.P. Holyoak, a representative of the Arizona marijuana business community who participated in the drafting process. "Arizona's medical marijuana businesses have proven that regulation works. It's time to take that lesson and apply it to all marijuana sales."
Initiative backers must collect the signatures of at least 150,642 registered Arizona voters by June 2016 in order to qualify the initiative for the November 2016 ballot.
"We're looking forward to hitting the streets and starting conversations with voters about the benefits of ending marijuana prohibition in Arizona," said Mikel Weisser, political director of Safer Arizona, an organization supporting the initiative. "Marijuana prohibition is an irrational policy that causes far more harm than good. Adults should not be treated like criminals simply for using a substance that is safer than alcohol."
The Campaign to Regulate Marijuana Like Alcohol, sponsored by MPP, is supporting a 2016 statewide ballot initiative to end marijuana prohibition in Arizona. For more information, visit http://www.RegulateMarijuanaInArizona.org.
Graphic: azmarijuana.com